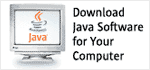 JSR Review (0 JSRs) | Early Draft Review (1 JSR) | Public Review (0 JSRs) | Proposed Final Draft (1 JSR) | Final Release (230 JSRs) | Maintenance Review (3 JSRs) | Active (43 JSRs) | Inactive (1 JSR) | Dormant (32 JSRs) | Withdrawn (82 JSRs) | Rejected (13 JSRs)

After completion of Early Draft Review (see Section 2.3), a draft specification is made available for Public Review, as described in Section 3.1.

The following draft specifications are available for Public Review. The download pages will tell when each review period closes and where you can send comments. The Expert Group writing each draft is required to read and consider all comments submitted.

Currently there are no JSRs that match the criteria.
354
Money and Currency API
Provides an API for representing, transporting, and performing comprehensive calculations with Money and Currency.

Active

| | | | |
| --- | --- | --- | --- |
| Public Review Ballot 2 | View results | Start: 2014-04-29 | End: 2014-05-12 |

Anatole Tresch, Credit Suisse