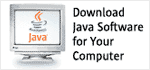 JSR Review (0 JSRs) | Early Draft Review (0 JSRs) | Public Review (1 JSR) | Proposed Final Draft (1 JSR) | Final Release (255 JSRs) | Maintenance Review (0 JSRs) | Active (15 JSRs) | Inactive (0 JSRs) | Dormant (25 JSRs) | Withdrawn (99 JSRs) | Rejected (14 JSRs)
After completion of Early Draft Review (see Section 2.3), a draft specification is made available for Public Review, as described in Section 3.1.
The following draft specifications are available for Public Review. The download pages will tell when each review period closes and where you can send comments. The Expert Group writing each draft is required to read and consider all comments submitted.
385
Units of Measurement API 2.0
This JSR is a major evolution of the Unit API 1.0 (JSR 363) specification. Focused on the SI System redefinition, modularity and support for Java SE 8/9 and above.

Active

Jean-Marie Dautelle, Dautelle, Jean-Marie
Werner Keil, Keil, Werner
Otavio Santana, Santana, Otavio


Currently there are no JSRs that match the criteria.