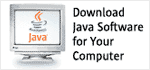 Introduction
Responsibilities
Membership
Meeting minutes and materials
Action Items
Election Results
Member participation
The EC project on java.net
Executive Committee home page (for EC members only)
The Executive Committee (EC) is the group of Members guiding the evolution of Java technology in the Java Community Process (JCP). The EC represents both major stakeholders and a representative cross-section of the Java Community. The EC is responsible for approving the passage of specifications through key points of the JCP and for reconciling discrepancies between specifications and their associated test suites. Originally there were two ECs (the SE/EE EC and the ME EC); these were merged with JCP 2.9.
For more information about the function of the Executive Committee, please refer to the Java Community Process Document and the Executive Committee's Standing Rules.
The Executive Committee is expected to:
Select JSRs for development within the JCP.
Approve draft specifications for Public Review.
Give final approval to completed Specifications and their associated RIs and TCKs.
Decide appeals of first-level TCK test challenges.
Review and approve maintenance releases.
Approve transfer of maintenance duties between Members.
Provide guidance to the PMO.
Executive Committee Members
EC Member
Representative
E-mail address
Current term ends
ARM Limited
Zach Shelby (bio)
Paul Manfrini (bio) (alternate)
Zach.Shelby@arm.com
Paul.Manfrini@arm.com
2016, elected
Azul Systems
Gil Tene (bio)
gil@azulsystems.com
2016, elected
Credit Suisse
Susanne Cech Previtali (bio)
Scot Baldry (bio) (alternate)
susanne.cechprevitali@credit-suisse.com
scot.baldry@credit-suisse.com
2015, ratified
Eclipse Foundation
Mike Milinkovich (bio)
mike.milinkovich@eclipse.org
2015, elected
Ericsson
Christer Boberg (bio)
christer.boberg@ericsson.com
2015, ratified
Freescale
Maulin Patel (bio)
maulin.patel@freescale.com
2016, ratified
Fujitsu Limited
Kenji Kazumura (bio)
Mike DeNicola (bio) (alternate)
kzr@jp.fujitsu.com
mdenicola@us.fujitsu.com
2015, ratified
Gemalto M2M
Thomas Lampart (bio)
Florian Denzin (alternate)
thomas.lampart@gemalto.com
florian.denzin@gemalto.com
2016, ratified
Goldman Sachs
Donald Raab (bio)
Michael Marzo (bio) (alternate)
Donald.Raab@gs.com
Michael.Marzo@gs.com
2016, ratified
Hazelcast
Greg Luck (bio)
greg@hazelcast.com
2016, elected
Hewlett-Packard
Scott Jameson (bio)
scott.jameson@hp.com
2015, ratified
IBM
Steve Wallin (bio)
steve_wallin@uk.ibm.com
2015, ratified
Intel
Michael Berg (bio)
michael.c.berg@intel.com
2015, ratified
Werner Keil
Werner Keil (bio)
werner.keil@gmx.net
2016, elected
London Java Community
Martijn Verburg (bio)
Ben Evans (bio) (alternate)
martijnverburg@gmail.com
benjamin.john.evans@gmail.com
2015, elected
Geir Magnuson, Jr.
Geir Magnuson, Jr. (bio)
geir@pobox.com
2016, elected
MicroDoc
Hendrik Hoefer (bio)
Hans Kamutzki (bio) (alternate)
hho@microdoc.com
hans.kamutzki@microdoc.com
2016, ratified
Oracle
Don Deutsch (bio)
Calinel Pasteanu (bio) (alternate)
Anish Karmarkar (alternate)
donald.deutsch@oracle.com
calinel.pasteanu@oracle.com
Anish.Karmarkar@oracle.com
Red Hat Middleware
Mark Little (bio)
Scott Stark (alternate)
mlittle@redhat.com
sstark@redhat.com
2015, ratified
SAP
Sanjay Patil (bio)
sanjay.patil@sap.com
2016, ratified
Software AG
Prasad Yendluri (bio)
Prasad.Yendluri@softwareag.com
2016, ratified
SouJava
Bruno Ferreira de Souza (bio)
Fabio Velloso (alternate)
bruno@soujava.org.br
fabio@soujava.org.br
2015, ratified
TOTVS
David Britto (bio)
David.Britto@totvs.com.br
2016, ratified
Twitter
Chris Aniszczyk (bio)
zx@twitter.com
2015, elected
V2COM
Leonardo de Moura Rocha Lima (bio)
llima@v2com.mobi
2016, ratified
When voting in the annual EC elections JCP members should take into consideration the participation records of current EC members who are running for reelection:
For a visual record of EC members' attendance at meetings see the EC meeting attendance chart.
See JSR voting results for detailed records of EC members' voting records.
For yearly summaries of members' meeting attendance and voting records choose from the list below:
2014 | 2013 | 2012 | 2011 | 2010 | 2009 | 2008 | 2007 | 2006 | 2005 | 2004