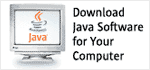 Introduction
Responsibilities
Yearly Summaries of EC Activity
EC Membership
Meeting Minutes and Materials
Action Items (java.net login required)
Election Results
EC Meeting Attendance
EC Voting Records
EC Working Group Meeting Minutes
Executive Committee home page (for EC members only)
The Executive Committee (EC) is the group of Members guiding the evolution of Java technology in the Java Community Process (JCP). The EC represents both major stakeholders and a representative cross-section of the Java Community. The EC is responsible for approving the passage of specifications through key points of the JCP and for reconciling discrepancies between specifications and their associated test suites. Originally there were two ECs (the SE/EE EC and the ME EC); these were merged with JCP 2.9.
For more information about the function of the Executive Committee, please refer to the Java Community Process Document and the Executive Committee's Standing Rules.
The Executive Committee is expected to:
Select JSRs for development within the JCP.
Approve draft specifications for Public Review.
Give final approval to completed Specifications and their associated RIs and TCKs.
Decide appeals of first-level TCK test challenges.
Review and approve maintenance releases.
Approve transfer of maintenance duties between Members.
Provide guidance to the PMO.
The following are summaries of EC activity by year, including EC meeting attendance and voting records.
2023 | 2022 | 2021 | 2020 | 2019 | 2018 | 2017 | 2016 | 2015 | 2014 | 2013 | 2012 | 2011 | 2010 | 2009 | 2008 | 2007 | 2006 | 2005 | 2004

This table lists the current Executive Committee and its representatives.
Executive Committee Members
EC Member
Representative
E-mail address
Current term ends
Alibaba
Sanhong Li (bio) Denghui Dong (bio) (alternate)
sanhong.lsh @ alibaba-inc.com
denghui.ddh @ alibaba-inc.com
2024, ratified
Amazon.com Services, Inc
Volker Simonis (bio)
Yishai Galatzer (bio) (alternate)
simonisv @ amazon.de
yishai @ amazon.com
2025, elected
Arm Ltd
Stuart Monteith (bio)
Shiyou Huang (bio) (alternate)
stuart.monteith @ arm.com
Shiyou.Huang @ arm.com
2025, ratified
Azul Systems
Gil Tene (bio)
gil @ azul.com
2025, elected
BellSoft
Aleksei Voitylov (bio)
aleksei.voitylov @ bell-sw.com
2024, ratified
BNY Mellon
Chandra Guntur (bio)
Sirisha Pratha (bio) (alternate)
Rodrigo Graciano (bio) (alternate)
chandra.guntur @ bnymellon.com
Sirisha.Pratha @ bnymellon.com
Rodrigo.Graciano @ bnymellon.com
2024, ratified
Eclipse Foundation
Ivar Grimstad (bio) Thabang Mashologu (bio) (alternate)
ivar.grimstad @ eclipse-foundation.org
thabang.mashologu @ eclipse-foundation.org
2024, elected
Ken Fogel
Ken Fogel (bio)
kfogel @ dawsoncollege.qc.ca
2024, associate
Fujitsu Limited
Kenji Kazumura (bio)
kzr @ jp.fujitsu.com
2025, ratified
IBM
Mark Little (bio)
Tim Ellison (bio) (alternate)

markclittle @ redhat.com
tellison @ redhat.com
2025, ratified
Intel
Steve Dohrmann (bio)
steve.dohrmann @ intel.com
2025, ratified
Japan Java User Group
Shin Tanimoto (bio)
tanimoto.shin @ gmail.com
2025, associate
JetBrains
Mala Gupta (bio)
mala.gupta @ jetbrains.com
2024, ratified
MicroDoc
Bruno Caballero (bio)
bruno.caballero @ microdoc.com
2024, ratified
Microsoft
Martijn Verburg (bio)
maverbur @ microsoft.com
2024, elected
Oracle
Luke Kowalski (bio)
luke.kowalski @ oracle.com
SAP SE
Götz Lindenmaier (bio)
Christoph Langer (bio) (alternate)
Martin Dörr (bio) (alternate)
goetz.lindenmaier @ sap.com
christoph.langer @ sap.com
martin.doerr @ sap.com
2024, ratified
SouJava
Bruno Ferreira de Souza (bio)
Otavio Santana (alternate)
Rafael Chinelato Del Nero (alternate)
bruno @ soujava.org.br
otaviopolianasantana @ gmail.com
rafachinelato @ hotmail.com
2025, ratified