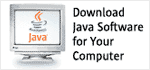 Java Specification Requests (JSRs) are the actual descriptions of proposed and final specifications for the Java platform. At any one time there are numerous JSRs moving through the review and approval process.
A simple way to stay up to date and track the JSRs in each stage of review is to join the Mailing List. As a Mailing List member, you can automatically receive emails on JSRs as they move through the stages in review.
Of course, at any time, you can see a list of all JSRs, by visiting the Java Specification Requests list. Using the links near the top of the page, you can sort the list by JSR ID number, Title, and the Spec Lead Company Name.
You can also view JSRs by Stage, Technology & Platform or Executive Committee.
To see a sorted view of the JSRs by their stage in the review and approval process, visit the following pages:
If you prefer to sort the JSR listings by Platform or Technology, use JSR List by Technology.
To sort JSRs by the Executive Committee (SE/EE or ME), use JSR List by Executive Committee.
To see an updated vote count on each JSR as it goes through the process, visit the Ballot Results page.
Finally, you may view lists of the JSRs that started in the JCP and then stopped development, either because they were withdrawn from the process by the Spec Leads and Expert Groups, or because they did not pass an Executive Committee ballot.