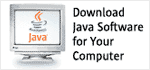 The Java Community ProcessSM (JCPSM) program will be presenting the fourth annual JCP Program Awards at the JCP Community Event on 17 May during the 2006 JavaOne Conference. These five awards are in the categories of JCP Member of the Year, Most Outstanding Spec Lead for Java Standard Edition/Enterprise Edition, Most Outstanding Spec Lead for Java Micro Edition, Most Innovative JSR for Java Standard Edition/Enterprise Edition, and Most Innovative JSR for Java Micro Edition. The nominations are made by the Executive Committees, and the winner in each category is determined by Executive Committee vote. Descriptions for each of these categories follow the list of this year's nominations. Here are the nominees:




JCP Member Of The Year - This award recognizes the corporate or individual member who has made the most significant positive impact on the community in the past year. Leadership, investment in the community, and innovation are some of the qualities that EC Members look for in voting for this award.

Outstanding Java SE/EE Spec Lead - The role of Spec Lead is not an easy one, and the person who takes that responsibility must be, among other things, technically savvy, able to build consensus in spite of diverse corporate goals, and focused on efficiency and execution. This award recognizes the person who has brought together these qualities the best in the past year, in leading a JSR for the Java Standard Edition or Java Enterprise Edition communities.

Most Innovative Java SE/EE JSR - Innovation is key to the success of the JCP and helps ensure we remain a fresh and vibrant community. This award recognizes the Spec Lead and Expert Group that have introduced the most innovative new JSR for the Java Standard Edition or Java Enterprise Edition communities in the past year.

Outstanding Java ME Spec Lead - The role of Spec Lead is not an easy one, and the person who takes that responsibility must be, among other things, technically savvy, able to build consensus in spite of diverse corporate goals, and focused on efficiency and execution. This award recognizes the person who has brought together these qualities the best in the past year, in leading a JSR for the Java Micro Edition community.

Most Innovative Java ME JSR - Innovation is key to the success of the JCP and helps ensure we remain a fresh and vibrant community. This award recognizes the Spec Lead and Expert Group that have introduced the most innovative new JSR for the Java Micro Edition community in the past year.

. . . . . . . . . . . . . . . . . . . . . . . . . . . . . . . . . . . . . . . . . . . . . . . . . . . . . . . .


JBoss JBoss is committed to developing software in the Professional Open Source model that is compliant with all of the relevant standards. It is important to JBoss that those standards are developed in an open manner, with strong community participation. That is why JBoss is an active participant in the Java Community Process. The company is actively involved in a wide range of JSR efforts, including EJB3, Java EE5 and Web Services, providing input from both developer and user feedback that is critical to the continued success of the JCP. We look forward to continuing this involvement and helping the community to go from strength to strength.

NTT DoCoMo
NTT DoCoMo has adopted Java technology for handsets since 2001, and currently has more than 36 million active subscriptions with the handset powered by Java technology, out of 46.5 million active "i-mode" subscribers. In addition to that, Java technology is also leveraging DoCoMo's advanced "Mobile Wallet," infrastructure taking advantage of its secure nature, which is installed over 11.8 Million active subscriptions. Enhanced by Java technology-based applications, i-mode FeliCa allows users to replace their cash, cards, and house key with a FeliCa contactless IC chip technology in their phone. This service was awarded "Duke's Choice Award" at JavaOne 2005. In past four and a half years NTT DoCoMo has continuously contributed to the JCP, making the most of its real business experience of running mobile Java service in people's daily life.

Sony Ericsson
Sony Ericsson is an active voting member of the Java ME Executive Committee(EC). The company participates in the evolution of mobile Java technology within the Java Community Process (JCP) program and works alongside with the other members to ensure an open, well-managed Java community. Sony Ericsson's mission is to ensure optimal progress of Java technology in mobile devices and to maximize the usage and interoperability of Java applications on mobile phones. The company's representative on the Java ME EC, Hanz Haeger, pays attention to what will help Java developers, and is enthusiastic about reducing fragmentation in the Java Micro Edition (ME) industry. Sony Ericsson's strategy to build backwards compatible Java platforms, aligned with the industry standard, is one of its contributions to reduce fragmentation. Sony Ericsson has been one of the most aggressive advocates of Mobile Java 3D with Mobile 3D Graphics (JSR 184) now implemented in more than 30 of its phones and its Sony Ericsson Developer World program recognized as the leading technical resource in Mobile Java 3D.
"This nomination clearly shows that the community thinks that Sony Ericsson is an important player and that our contribution in the Java ME ecosystem has been successful and is highly valued. We are proud to be nominated and will do our best to live up to industry expectations also in the future and, together with other players in the community, work hard to make Java in mobile devices even more powerful," Hanz Haeger said.

Sun Microsystems, Inc.
Sun Microsystems is the original creator of the Java technology and is the specification lead for a wide range of JSRs, from device technologies such as CLDC to the Java EE enterprise platform. Working with other community members, Sun is in the process of finalizing major simplifications to the Java enterprise programming model in JSR-244 "Java EE 5", as well as revising the core Java specifications in JSR-270 "Java SE 6 (Mustang)". Along with other industry leaders Sun is also actively involved in the completion of key Java ME Jsrs for example JSR-248 "Mobile Services Architecture" and driving some of them such as JSR-209 "Advanced Graphical User Interface. To enable more community participation in platform development, Sun is using collaborative community development models for the Reference Implementations of important JSRs, at glassfish.dev.java.net and mustang.dev.java.net.and is also an active Expert Group member in numerous other Java specifications.



. . . . . . . . . . . . . . . . . . . . . . . . . . . . . . . . . . . . . . . . . . . . . . . . . . . . . . . .



JSR 248, Mobile Services Architecture
JSR 248 is the first of two specifications developed by the Mobile Service Architecture (MSA) initiative, a group of 14 major mobile industry players represented on the JSR Expert Group. The spec leads are from Nokia Corporation and Vodafone Group Services. The focus of the JSR is to specify an unfragmented, backwards compatible application development platform that supports a set of key APIs to a wide variety of features provided by the latest mass-market oriented handsets and mobile networks today and in the near future. JSR 248 does not introduce any new API specifications per se but includes a number of new component JSRs and clarifications/recommendations to existing specifications to define a consistent Java API services architecture. This will significantly reduce fragmentation and enable application compatibility across multi-vendor mobile devices.

JSR 253: Mobile Telephony API (MTA)
Led by Motorola and BenQ Corporation, JSR 253 enables applications to incorporate telephony features and controls directly into their operation, avoiding the need to pass focus to another application. One example of this might be in a multi-player game, allowing a voice call to be placed to other players in the game for strategy discussion (or taunting the enemies). Another use is the ability to incorporate a feature such as calling out to a help desk without exiting the application. Prior to JSR253 the use of telephony features led to the Java MIDlet losing focus to the telephony control application, something which can be problematic for troubleshooting. Providing control of these features allows the application to incorporate voice communication, without requiring additional development, and opening up all of the communication capabilities of the platform.

JSR 272, Mobile Broadcast Service API for Handheld Terminals
Spearheaded by Nokia and Motorola JSR 272 defines the API for Mobile TV. With the advances in mobile TV technologies like DVB-H, DMB, DAB, MediaFLO, bringing broadcast entertainment to your mobile phones is a reality. But there are more that can be done than just watching TV using these technologies. JSR 272 provides the Java API to interface with the underlying broadcast service implementation to access the Electronic Service Guide; to interact with the media presentation; record contents and to manipulate any auxiliary data (including applications) that are broadcast with the media. Special attention is taken to accommodate purchasing, security and DRM specific to broadcast services. JSR 272 is an enabler for interactive TV and rich media applications. JSR 272 targets compatibility with the CLDC/MIDP environment; enabling full interactive TV features with a relatively small and effective API.

JSR 281, IMS Services API
The IMS Services API enables application programmers to easily create applications offering multimedia communication services in close integration with IP Multimedia Subsystem (IMS) according to applicable standards. In this way IMS domain, with all the advantages of merged Internet and Telco technologies, will be revealed to the broad JME developer community and will encourage faster adoption of the IMS services provided by the wireless networks. At least four types of functionality will be supported by the API: generic high-level IMS functionality, Push to Talk over Cellular (PoC) IMS Presence and Group List Management (GLM). JME developers will have a toolkit for creation of communication services being a combination of totally new communication style and standardized ones. The IMS Services API allows application developers for mobile devices to easily utilize the IMS functionality without requiring knowledge of the underlying SIP and IMS implementation details.



. . . . . . . . . . . . . . . . . . . . . . . . . . . . . . . . . . . . . . . . . . . . . . . . . . . . . . . .



Asko Komsi & Mark Duesner for JSR 248, MSA on CLDC
Asko Komsi is currently working at Nokia Research Center as Director of Industry Relations. He has worked close to 20 years in various expert and leadership roles in research, standardization, technology strategy boards and ventures focusing on various mobile technologies and services. Komsi has extensive knowledge of software, wireless and mobile technologies and business issues. He has been actively involved in the JCP since 2004. In his current position, Komsi is responsible for next generation mobile Java standardization and related industry cooperation. As part of this role, he is one of the specification leads for the MSA Initiative (JSR 248 and JSR 249) as well as one of Nokia's representatives in the J2ME EC. Komsi holds B.S and M.Sc. degrees in computer science from University of Turku (Finland) and MBA from Berkeley School of Business (USA). Asko Komsi was involved in object-oriented technologies and virtual machine (VM) designs when he decided to check out the Java language to see if Java technology and mobility were complementary technologies. Since then, he has become committed to the notion of making Java technology "freely and widely available to the industry."

Jaana Majakangas for JSR 257, Contactless Communication API
Jaana Majakangas has a Master of Science degree in Mathematics and computer science from the University of Jyvaskyla in Finland. She has worked in Nokia Corporation for 10 years in different research and development tasks from statistics in telephone exchanges to mobile Java standardization. Currently she holds the position of Senior Design Engineer in the Java standardization group. Jaana has been a member of JCP from the August 2003. She has participated to JSRs 218,219,257, 271 and 293. Currently she is the specification lead of JRSs 257 Contactless Communication API and 293 Location API 2.0.

Volker Bauche for JSR 228 Information Module Profile - Next Generation (IMP-NG)
Volker Bauche works in the R&D department of BenQ Mobile as lead of a team specializing in middleware projects. Familiar with the Java ME standardization process since the early beginning it has been natural for Volker to join many Java ME JSR expert groups and become spec lead of some including JSR 228 IMP-NG which he drove to completion. Currently he is the co-spec lead of JSR 281 IMS Services API with another colleague from BenQ and Ericsson. This JSR is nominated this year for the most innovative JSR in Java ME area.



. . . . . . . . . . . . . . . . . . . . . . . . . . . . . . . . . . . . . . . . . . . . . . . . . . . . . . . .



JSR 244, Java EE 5
JSR-244 defines Java EE 5, the latest version of the Java EE platform. Java EE 5 is the most significant release of the Java EE platform since the first version, J2EE 1.2. Java EE 5 significantly enhances the programming model, making it much easier to write enterprise applications. Java EE 5 makes extensive use of Java language annotations to greatly simplify the declarative programming style of Java EE. This is especially evident in the EJB 3.0, JAX-WS 2.0, JAXB 2.0, and Java Persistence 1.0 technologies, which are included in the Java EE 5 platform.

JSR 292, Supporting Dynamically Typed Languages on the Java Platform
JSR 292 aims to provide sufficient support in the Java Virtual Machine(JVM) for implementors of dynamic languages to directly target the JVM's object model. This is significant because it will enable dynamically typed languages to leverage the high end performance capabilities of JVMs. We hope to accomplish this by allowing dynamically typed byte code to be executed efficiently yet safely, and by supporting the hotswapping facilities these languages need.

JSR 220, EJB 3.0
A leading JSR, EJB 3.0 is extremely innovative in a number of ways, from the technology that it defined to the process and practices that it used to define it. It is the first specification group within the group of Java EE specifications that takes advantage of the new features of annotation metadata and parameterized types in Java SE 5. In particular, it defines a strategy for annotations usage subsequently adopted by JSR 244 for the Java EE Platform. It unifies the persistence world to produce a lightweight and integrated persistence specification that may also be used in a non-managed Java SE environment. The end result is a set of EJB and persistence specifications that merge accepted best practices with new technologies to form a technology that has already received wide acclaim even before reaching final draft.



. . . . . . . . . . . . . . . . . . . . . . . . . . . . . . . . . . . . . . . . . . . . . . . . . . . . . . . .



Linda DeMichiel
Specification Lead for Enterprise JavaBeans 3.0 (JSR-220), is a senior architect in the Java EE Platform group at Sun Microsystems and Sun's chief architect for Enterprise JavaBeans and the Java Persistence API. She has over 15 years of experience in the areas of databases, object persistence, distributed computing, and Object Oriented Programming(OO). Before assuming responsibility for EJB, she led the team that implemented Sun's first object/relational persistence product, and worked earlier at IBM research on object/relational extensions to both DB2 and the SQL99 standard. She holds a Ph.D. in Computer Science from Stanford University. Her experience with the JCP dates back to 1999, when she took over leadership of EJB with JSR-19 and, later, JSR-153. She has also represented Sun Microsystems as an expert group member on JSRs 26, 107, 207, and 225.

Jose Cronembold
Jose R. Cronembold is a Senior Development Manager at Oracle Corporation. He designed an implemented Oracle JDeveloper's IDE framework. He has extensive experience in developing IDEs. In addition to Oracle JDeveloper he has worked on two other IDEs: UIMX: a C++ IDE for developing Motif based application, and Visual Age for Basic: a Visual Basic compatible IDE. Before joining Oracle, Jose previously worked on several IDEs, including IBM's Visual Age for Basic, and Visual Edge's UIMX for building C++ applications. In 1996, Jose started to work on an IDE for building Java applications, his first project with Java technology. By 2003, he was involved in the JCP program as a Spec Lead for JSR 198, A Standard Extension API for Integrated Development Environments. Currently he is an Observer of JSR 227, A Standard Data Binding & Data Access Facility for J2EE.

Ed Burns
Ed Burns has worked on a variety of Java Platform, Standard Edition (Java SE) and Java Platform, Enterprise Edition (Java EE) projects in roles ranging from individual contributor to team leader to architect. On the front end, he worked on applications such as a Java port of Lighthouse's popular Quantrix multi-dimensional spreadsheet and the Mozilla Java Plugin hosting code. On the server side, he has worked on JavaServer Pages (JSP) and JavaServer Pages Standard Tag Library (JSTL), but his primary focus has been on JavaServer Faces (JSF) technology. He co-authored a book, ?JavaServer Faces: The Complete Reference?, which is available August 2006.
Ed got involved with the JCP program when he became co-Spec Lead of JSR 127 JavaServer Faces in October 2002, at the beginning of the JSF development lifecycle, and he continued in that role with JSR 252 JavaServer Faces 1.2.

Stefan Hepper
Stefan Hepper works for the IBM development lab in B?blingen, Germany and he is the lead architect for the WebSphere Portal, Workplace Client and Server programming model and public APIs. He co-led the Java Portlet Specification V 1.0 (JSR 168) and is now leading the V 2.0 (JSR 286). Stefan also started the Pluto project at Apache that provides the reference implementation of JSR 168.



. . . . . . . . . . . . . . . . . . . . . . . . . . . . . . . . . . . . . . . . . . . . . . . . . . . . . . . .