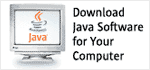 Becoming a Member | Instructions for Full Membership | Instructions for Associate Membership | Instructions for Partner Membership | JCP Membership Info | Why Join

As an Employer, you may have employees who wish to participate on a Java Specification Request (JSR), contributing feedback, suggestions, and intellectual property to the Specification Lead developing a new Java standard specification or revising an existing one. Employers of individuals who have signed the Java Specification Participation Agreement and are Full Members will now be required to sign the new Employer Contribution Agreement (ECA - download a review copy), which documents that those employers make Intellectual Property (IP) commitments similar to those made by full corporate members. A separate ECA must be signed for each employee who wishes to participate in the JCP.
As an alternative, you may wish to consider joining as a Full Member of the JCP.
For information about the other classes of JCP Membership, refer to the Participation Overview page.
You have probably already received an e-mail prompt to sign the Employer Contribution Agreement (ECA). Once you have determined that you are content to give your employee rights to contribute IP to the JCP, follows these steps:
Register for the site if you don't already have an account.
Log in to jcp.org with your account.
Fill out the ECA form. By default, the ECA expects an electronic signature. We prefer that you use electronic signature if at all possible. If you wish instead to print out a copy of the agreement for a physical signature, make sure to select "Manual Signature" on the form (and see the manual signature instructions section below).
Submit the ECA form. You will then receive an e-mail message prompting you to sign the ECA electronically.
Sign the ECA electronically, or specify a different person to sign the ECA for your company.
Once you have submitted your electronic signature, you will be notified that the agreement is complete and you can download it and/or print it for your records. The JCP PMO will then contact your employee with information about participating in the Java Community Process.
---

The default method of Associate Membership Agreement signature is electronic signature.

When you fill out and submit the form for your Membership agreement, an e-mail message will be sent to you. This e-mail message will have a subject line that starts with "Please sign JCP." In the message, it will prompt you to click a link to sign the agreement. Clicking that link will open a web browser window on the electronic signature page for your agreement.

The agreement will be displayed in its entirety. If you have not read the agreement in advance, you can read through it here.

A yellow arrow will hover to the left of the agreement if you still have areas to fill out on the agreement. Click that yellow arrow to jump to the next area where you need to enter information (signature etc). Each area requiring your input is highlighted as a pink box with a red asterisk. Click on the box to enter your information, as described below:
Name and Signature: Click this field to bring up a window to type your name. In this window is a box labeled "Enter your full name here." Select that box and type your full name. The electronic signature service will then sign your name from what you have typed. As an alternative, you can click the "Draw" option to sign your name freehand with your pointer. When you are satisfied with how your name and signature appear, click the blue "Apply" button to return to the agreement.

Title: Click this field to type in your job title.
With any of the fields, you can return to the field after you have entered something and change it. Just click on the box again to edit what you have entered.

After you have entered the information for all the fields, a blue button will appear at the bottom of the page labeled "Click to Sign." Once you are satisfied that all the information you have entered is correct, click that blue button and the agreement will be forwarded to Oracle for counter-signature.

Once the agreement has also been signed by Oracle, you will receive an e-mail notification with the subject line "[Name of Agreement] is Signed and Filed!" This message will contain a link to download the fully-signed agreement. Please make sure to save a copy of the agreement for your records; the agreement will only be available for download from the electronic signature service for 30 calendar days.

A note on delegation: if you wish to send the agreement to someone else in your organization for review and/or signature, there are two ways to do so. First, the e-mail message you will receive with the subject line starting with "Please sign JCP" contains another link for delegation. The relevant section reads "If you need to delegate this document to an authorized party for signature, please do not forward this email. Instead, click here to delegate." Second, once you are on the electronic signature page looking at the agreement, you can also delegate by selecting "Someone else should sign" in the "Alternative actions" pull-down menu in the upper left. Either approach will load a form in your web browser where you can specify the e-mail address of the person you want to review and/or sign the agreement, and a box for writing a message to that person. Once you have filled in information for both of these, click the blue "Delegate" button. That person will then receive an e-mail prompt to sign the agreement; please contact that person separately to make sure that he or she is aware that you expect them to review and/or sign an agreement. You may also wish to send that person these instructions.
---
The default mode of ECA signature if electronic signature. Manual signature is likely to result in a delay between your signing the agreement and your employee being able to participate on a JSR. You are strongly encouraged to sign the ECA electronically. The instructions that follow are for those who cannot, for one reason or another, sign the ECA electronically.
After you have filled out the ECA form and selected "Manual Signature," you will receive an e-mail message with a link to the ECA ready for you to print and fill out by hand.
Print the ECA.
Fill out the remaining portion of the ECA by hand.
Submit the completed ECA to the PMO per the instructions on submitting a physical agreement. Please make sure to submit ALL pages of the agreement, not just pages you've signed. Partial submission or incomplete submission cannot be accepted and will not be processed until it is complete.

If you have additional questions, contact the JCP PMO at pmo@jcp.org.