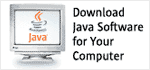 Introduction
Responsibilities
Membership
Meeting Minutes
Election Results
Voting Records
The JCP's EC Standing Rules, in describing the duties of EC members, states:
Attendance at meetings is mandatory:
Missing two meetings in a row (whether teleconference or face-to-face meetings) results in the loss of voting privileges in all JSR ballots and EC votes that have not yet started. An EC member who has lost voting privileges cannot make or second a motion. Privileges are regained after full attendance at two consecutive meetings.
Missing five meetings in a row, or missing more than two-thirds of all meetings in any consecutive twelve-month period, results in loss of EC membership.
The precise details of when voting privileges are lost and regained is recorded in the minutes of the March 2012 EC meeting (see Loss and restatement of voting privileges.)
See the table below for a visual record of members' attendance at EC meetings for current or past EC members.
Legend

Attended meeting
Did not attend meeting
Did not attend meeting but was excused, and hence not subjected to penalties
Attended (perhaps partially) by phone, but was marked absent since in-person attendance is compulsory for f2f meetings