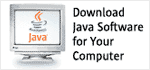 | | | |
| --- | --- | --- |
| | | |
| | | The Java Community Process (JCP) program runs smoothly thanks to the dedication of the Program Management Office (PMO) staff. These individuals bring not only a wealth of diverse technical, academic, and personal training and experience to the task of nurturing the community, but they also share a passionate enthusiasm for Java technology and the community that is evolving it. |

Corina Ulescu, the JCP Program Public Relations manager, joined the PMO staff in December 2003. Her role includes developing and implementing a PR program that meets the specific communication needs of the JCP program for the Executive Committee (EC), spec leads, expert groups, PMO, and other community members. Corina became very well acquainted with the workings of the JCP program early on when she supported the program from the Sun Software and Global Communications organizations.


| | |
| --- | --- |
| | |
| Corina Ulescu | |
She works regularly with JCP program members at all levels -- spec leads, expert groups, EC members, and the PMO -- to bring news about Java specifications and the JCP process to the press.

She strongly believes in the role of Public Relations in establishing and maintaining an open, on-going dialogue between representatives of the media and members of the JCP program. She studied Public Relations at Mount Saint Vincent University in Halifax, Nova Scotia, and completed a master's degree in General and Applied Linguistics in Europe.

Fascinated by Java technology's compatibility and interoperability capabilities, Corina believes that Java technology stands apart in the software industry pantheon of milestone accomplishments offering unprecedented choice, flexibility, and opportunity to developers. "No wonder Java technology has been adopted so widely over the years and become a de facto standard. The community clamor for compatibility was heard loud and clear by the creator of Java technology, Sun, and became the mission of the JCP program: develop Java technology binary standards that deliver the promise of compatibility."

The idea of developing technology based on standards and in a widely participatory manner through a community also drew Corina to the JCP program as being an out-of-the box way of conducting business so that choice and future opportunity become embedded in the development of technologies.

A resident of California, with ties to Canada and Europe, Corina calls herself a "global citizen." In her spare time, she enjoys gardening to relax and bond closely with nature, and she hikes unbeaten paths in the scenic California hills. One of her preferred reading topics is about the history of movie making which continues an enduring love affair with the Seventh Art. It all started during her university years and peaked in Nova Scotia when she served as one of the directors of the Nova Scotia Film Development Corporation. Funny coincidence: today she lives right by the historic district where Charlie Chaplin started his film career at Essany Studios in Niles, California.



. . . . . . . . . . . . . . . . . . . . . . . . . . . . . . . . . . . . . . . . . . . . . . . . . . . . . . . . . . .