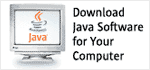 | | | |
| --- | --- | --- |
| | | |
| | | The Java Community Process (JCP) program runs smoothly thanks to the dedication of the Program Management Office (PMO) staff. These individuals bring not only a wealth of diverse technical, academic, and personal training and experience to the task of nurturing the community, but they also share a passionate enthusiasm for Java technology and the community that is evolving it. |

Joe Strzemp (silent z!?) is the web engineer for the JCP Program Management Office (PMO). Simply said, Joe writes, "Working through various development technologies "du jour" over the years, Java has become my absolute favorite for many of the often touted reasons for others choosing Java as their first or favorite choice, but also because it just plain works. The rich programming environment offered by Java is just phenomenal. Though I do occasionally quietly promote Java privately, I'm less about fanatical platform promote-ism and more about getting *real* industrial strength, scalable, and secure work done, and Java allows me to do that, so I'll just leave it at that."

In a small group like the JCP PMO, people take on several functional roles and wear many hats. Besides creating new features for the jcp.org web site, he also does servicing of the web server, database support, back-end tools and ancillary services, and working on some of the more complicated web content for jcp.org, along with general support for the JCP PMO, and end-user support.


| | |
| --- | --- |
| | |
| Joe Strzemp | |
Prior to his joining the JCP Program Management Office, Joe worked in Rob Gingell's Architecture and Technology group at Sun Microsystems. His last project while there was to help in delivering the Solaris source code into the hands of the user community as part of what eventually became OpenSolaris. The JCP program lived under Rob's group, and Joe made the transition to a position within the JCP utilizing his UNIX and web development skills.

Originally from Chicago, Illinois, Joe received his bachelor's degree from the University of Illinois in Computer Science and Electrical Engineering. While there, he led a study of how engineers debug code and the radically different approaches they take to debugging. A particularly interesting result of the study was how differently people process conflicting, confusing, and incomplete information. Although the participants had very similar academic experience, the study illustrated the radically different techniques used by individuals and the widely varying abilities of engineers in problem solving.

Joe likes Java... the language too. What's not to like? Here's a language that does it all, well almost all, but what Java does best is that as a language it provides the opportunity for working the problem instead of the working code. Good designs require thoughtful consideration of the problem space without limitations. Java provide that and more.

Joe's professional interests include programming algorithms, (in particular concurrency and synchronization issues (JSR 166: Concurrency Utilities) and text and pattern matching methods), neural networking, security, visualization, and debugging tools and techniques.

Besides spending time with family, his personal interests include movies, music live and otherwise, hiking, and tennis. He resides in the Bay Area in California.

Last updated: May 2015



. . . . . . . . . . . . . . . . . . . . . . . . . . . . . . . . . . . . . . . . . . . . . . . . . . . . . . . . . . .