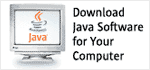 | | | |
| --- | --- | --- |
| | | |
| | | The Java Community Process (JCP) program runs smoothly thanks to the dedication of the Program Management Office (PMO) staff. These individuals bring not only a wealth of diverse technical, academic, and personal training and experience to the task of nurturing the community, but they also share a passionate enthusiasm for Java technology and the community that is evolving it. |
| | |
| --- | --- |
| | |
| Max Lanfranconi | |
Massimo Lanfranconi, known as Max, has never missed a JavaOne conference. He started working with Java technology soon after attending the very first one held in 1996. He had been scouting out new technologies for the research and development team of the Information Technology department of a bank in Italy, Banca Popolare di Bergamo, which was the largest finance customer of Sun Microsystems Italy. The targeted technologies were to make life easier for the 300 or so developers who were writing highly customized client-server applications for the bank. He says, "The bulk of code was in C, C++, and SQL, and I remember that at the meeting Java gave me a feeling like Belushi in Blues Brothers when he 'saw the light.' Back in those years, the focus was just on applets, but the excitement was really huge."

Java technologies have evolved since his first epiphany, and Max's enthusiasm has kept pace. By 1998, Max had joined Sun Microsystems Italy, and in 2001 he moved to a new Sun position in the United States. He says, "On the Java ME side, everything excites me. I can see and use new improvements every time I get a new cell phone, which is about every year, and I really enjoy exploiting every single CPU cycle out of my phone. On the Java EE side, I am very interested in JSR 220 Enterprise JavaBeans 3.0 from the developer perspective. Although I have not been coding for a few years, I am still very sensitive to these kinds of topics." Jini technology intrigues him, too, and he looks forward to seeing its full potential unfold over time.

After looking for new opportunities within Sun, Max was convinced that the advertised role of Marketing Manager of the PMO was a job tailored for him. The PMO agreed, and at the end of 2005, he began the "exciting" work of evangelizing the JCP to the community. More specifically, his role includes planning and implementing marketing and communications activities for the JCP program. He will develop messaging, marketing programs, advertising campaigns, sponsorships, and events for the JCP program, including the community gathering at the annual JavaOne conference. He looks forward to signing up new members and creating the best possible awareness of JCP both internally and externally.

Max brings a useful blend of talent to the table. He studied Computer Science in Italy, where he achieved the equivalent of a master's degree in Ecomomy and Business at the University of Bergamo. His dissertation addressed the legal aspects of e-commerce and digital signature, since he was attracted to the challenge of authentication and non-repudiation. He served as community manager for OpenOffice.org -- one of the largest OpenSource projects -- and set up the Italian Java Conference Event for two years. Moreover, he's been a sound engineer for a touring band and worked in radio for a few years as a disc jockey.

Max lives in Cupertino, California with his wife and two twin boys, who are happily enjoying first grade. Music remains a major part of his life, and he sings in a barbershop chorus and quartet, which this year scored fifth in the Far Western district. His favorite musical genres are the unlikely trio of Jazz, classic rock, and Mozart. A wine lover who enjoys cooking, Max also appreciates the opportunity to get outside for some skiing, sailing, or scuba diving, and he enjoys taking his family camping and sightseeing in "all the awesome parks in California" and Yellowstone National Park.



. . . . . . . . . . . . . . . . . . . . . . . . . . . . . . . . . . . . . . . . . . . . . . . . . . . . . . . . . . .