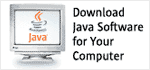 | | | |
| --- | --- | --- |
| | | |
| | | The Java Community Process (JCP) program applauds the community's Star Spec Leads. These leaders earned this honor through their efficient, prompt, and transparent communication with their Expert Group, the Program Management Office (PMO), and the Executive Committee (EC). They used community web pages, observer aliases, and other tools to communicate with their expert group, the JCP program community, and the public. They kept their Java Specification Requests (JSRs) on schedule by making sure their team stayed focused and felt appreciated. The JCP program congratulates and honors these Star Spec Leads. |

Jan Eichholz has a university diploma in Mathematics. For his thesis project, he worked in the field of probabilistic binary decision diagrams and circuit verification -- theoretical computer science. But what Jan really loves is cell phones, and he gets excited about adopting and integrating new ideas into BenQ mobile phones to make new, cool features available to users. Six years ago, Jan Eichholz had a question: Did it make sense to integrate Java technology into cell phones?

His subsequent exploration of Java technology began when Jan developed a prototype integration of Java technology into the Siemens Mobile Phones, using the K Virtual Machine (KVM). He then oversaw the product implementation of the first Siemens Java phone (SL45i). Now he is the team leader for the base Java Micro Edition platform of BenQ Corporation in Munich, Germany. With his group, Jan is involved in the product development for the Java platform in nearly all BenQ Corporation cell phones projects (series 45, 55, 65, 75).

In order to participate in the standardization of the Mobile Information Device Profile (MIDP), Jan began participating in the JCP program in 1999. Since then, he has participated as an Expert Group member in several Java Specification Requests (JSRs), all related to enhancing wireless technology: Jan also served as Spec Lead for JSR 120 Wireless Messaging API (WMA) and JSR 205 WMA 2.0. See JCP Program success story "Rich and Rapid Communication with Wireless Messaging API". He has come to believe that the outcome of a JSR depends upon the team members' motivation and skills, so he takes special care to delegate tasks to the right team members and to motivate them. Because many members are not active within the JCP program, it's not always easy to choose delegates. However, Jan feels the best motivation is the desire to create a "clear and powerful specification and milestones, which will be reached in time."

Communication with the Expert Group occurs mostly by email, but regular biweekly or so conference calls are "very important." For meetings, Jan knows it is essential to have a clear agenda, and all important topics must be available afterwards within the meeting notes. If a new draft of the spec is available, a version with change bars must be available to show what is different from the previous version. No need for everybody to go crazy trying to figure out what has been modified. The Expert Group's private home page is where Jan likes to place the current drafts, timeline, and milestones. A less detailed report on the timeline and JSR progress are made available on the JSR main page so that anyone can see it.

Jan finds that using email to keep the PMO informed before something is supposed to happen -- especially in the critical phases when drafts must be available for review -- helps ensure that everything is available on time. Because the Java Micro Edition market is so rapid, schedules are important, even if the contents of a JSR must be reduced to maintain the timeline.

Jan is pleased that the JCP program is taking the time to highlight Star Spec Leads. He says, "I'm very happy that standardization work will be honored. Normally, our business is very product driven and the standardization work is not very visible."

Jan was born in Schleswig-Holstein in northern Germany, but for the past eight years he has lived in Munich (Bavaria) with his family. He has two daughters, ages 2 and 5, and a baby due sometime in July. To unwind at home, he reads good books, digs in the garden, and rides a bike. For vacation, Jan prefers to visit Italy, taking in the weather, food, coffee, ocean, and relaxed pace of life.

Go to the Star Spec Lead Program page for more information.



. . . . . . . . . . . . . . . . . . . . . . . . . . . . . . . . . . . . . . . . . . . . . . . . . . . . . . . . . . .