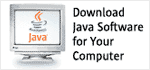 48
WBEM Services Specification
JavaTM WBEM Services is a set of APIs and reference implementation for WBEM. WBEM is an initiative from the DMTF that unifies systems management and instrumentation.

Active

Carl Chan, WBEM Solutions, Inc
Jim Davis, WBEM Solutions, Inc
270
JavaTM SE 6 Release Contents
The Umbrella JSR for the JavaTM SE 6 release.

Active

Mark Reinhold, Sun Microsystems, Inc.
336
JavaTM SE 7 Release Contents
The Umbrella JSR for the seventh edition of the Java SE Platform

Active

Mark Reinhold, Oracle
337
JavaTM SE 8 Release Contents
The Umbrella JSR for the eighth edition of the Java SE Platform

Active

Mark Reinhold, Oracle
339
JAX-RS 2.0: The Java API for RESTful Web Services
This JSR will develop the next version of JAX-RS, the API for for RESTful (Representational State Transfer) Web Services in the Java Platform.

Active

Santiago Pericas-Geertsen, Oracle
Marek Potociar, Oracle
342
JavaTM Platform, Enterprise Edition 7 (Java EE 7) Specification
This JSR will develop Java EE 7, the next version of the Java Platform, Enterprise Edition.

Active

| | | | |
| --- | --- | --- | --- |
| Maintenance Review Ballot | | Start: 2015-06-16 | End: 2015-06-22 |

Linda DeMichiel, Oracle
Bill Shannon, Oracle
343
JavaTM Message Service 2.0
This is an update to the Java Message Service API, an existing API for accessing enterprise messaging systems from Java programs.

Active

Nigel Deakin, Oracle
350
Java State Management
This JSR will develop an API that applications and JavaEE containers can use to offload the responsibility of state management into third party providers with different quality of service characteristics.

Active

| | | | |
| --- | --- | --- | --- |
| JSR Renewal Ballot 2 | View results | Start: 2015-04-28 | End: 2015-05-11 |

Tim Watson, Oracle
354
Money and Currency API
Provides an API for representing, transporting, and performing comprehensive calculations with Money and Currency.

Active

Anatole Tresch, Credit Suisse
356
JavaTM API for WebSocket
The Java API for WebSocket JSR will define a standard API for creating WebSocket applications.

Active

Danny Coward, Oracle
359
SIP Servlet 2.0
SIP Servlet API is the standard platform for implementing SIP based services.

Active

Binod PG, Oracle
362
Portlet Specification 3.0
This update to the Portlet Specification will address progress in Java EE, client-side web, and mobile technology that has taken place since JSR286 Portlet Specification 2.0 became final in 2008.

Active

| | | | |
| --- | --- | --- | --- |
| JSR Renewal Ballot 2 | View results | Start: 2015-04-28 | End: 2015-05-11 |

Martin Scott Nicklous, IBM
363
Units of Measurement API
This JSR specifies Java packages for modeling and working with measurement values, quantities and their corresponding units.

Active

| | | | |
| --- | --- | --- | --- |
| Early Draft Review | Download page | Start: 2014-12-29 | End: 2015-01-27 |

Jean-Marie Dautelle, Dautelle, Jean-Marie
Werner Keil, Keil, Werner
Leonardo Lima, V2COM
364
Broadening JCP Membership
This aims to broaden JCP participation by defining new membership classes, changing existing membership categories, enabling participation by the community, and ensuring the appropriate Intellectual Property commitments from JCP Members.

Active

Heather VanCura, Oracle
365
Contexts and Dependency Injection for JavaTM 2.0
This JSR is a major evolution of the CDI 1.1 (JSR 346) specification. Focused on modularity and Java SE support.

Active

| | | | |
| --- | --- | --- | --- |
| JSR Review Ballot | View results | Start: 2014-08-12 | End: 2014-08-25 |

Pete Muir, RedHat
Antoine Sabot-Durand, RedHat
366
Java Platform, Enterprise Edition 8 (Java EE 8) Specification
This JSR is to develop Java EE 8, the next release of the Java Platform, Enterprise Edition.

Active

| | | | |
| --- | --- | --- | --- |
| JSR Review Ballot | View results | Start: 2014-09-09 | End: 2014-09-22 |

Linda DeMichiel, Oracle
Bill Shannon, Oracle
368
JavaTM Message Service 2.1
The JMS API is an API for accessing enterprise messaging systems from Java programs. This JSR is to develop JMS 2.1, the next version of the API.

Active

| | | | |
| --- | --- | --- | --- |
| JSR Review Ballot | View results | Start: 2014-09-09 | End: 2014-09-22 |

Nigel Deakin, Oracle
369
JavaTM Servlet 4.0 Specification
This JSR aims to expose the latest advances in HTTP to users of JavaEE as well as providing a vehicle for continual improvement in this foundational Java EE API.

Active

| | | | |
| --- | --- | --- | --- |
| JSR Review Ballot | View results | Start: 2014-09-09 | End: 2014-09-22 |

Edward Burns, Oracle
Shing Wai Chan, Oracle
370
JavaTM API for RESTful Web Services (JAX-RS 2.1) Specification
This JSR is to develop JAX-RS 2.1, the next release of Java API for RESTful Web Services.

Active

| | | | |
| --- | --- | --- | --- |
| JSR Review Ballot | View results | Start: 2014-09-09 | End: 2014-09-22 |

Santiago Pericas-Geertsen, Oracle
Marek Potociar, Oracle
371
Model-View-Controller (MVC 1.0) Specification
This JSR is to develop MVC 1.0, a model-view-controller specification for Java EE.

Active

| | | | |
| --- | --- | --- | --- |
| Early Draft Review | Download page | Start: 2015-03-31 | End: 2015-04-30 |

Santiago Pericas-Geertsen, Oracle
Manfred Riem, Oracle
372
JavaServer Faces (JSF 2.3) Specification.
This JSR is to develop JSF 2.3, the next release of Java Server Faces.

Active

| | | | |
| --- | --- | --- | --- |
| JSR Review Ballot | View results | Start: 2014-09-09 | End: 2014-09-22 |

Edward Burns, Oracle
Manfred Riem, Oracle
373
JavaTM EE Management API 2.0
This JSR is to update JSR 77 with REST interfaces and incorporate deployment as a standard part of the management interface.

Active

| | | | |
| --- | --- | --- | --- |
| JSR Review Ballot | View results | Start: 2014-12-09 | End: 2014-12-22 |

Martin Mares, Oracle
375
JavaTM EE Security API
The goal of this JSR is to improve the Java EE platform by ensuring the Security API aspect is useful in the modern cloud/PaaS application paradigm.

Active

| | | | |
| --- | --- | --- | --- |
| JSR Review Ballot | View results | Start: 2014-12-09 | End: 2014-12-22 |

Alex Kosowski, Oracle
376
JavaTM Platform Module System
Define a module system for the Java Platform.

Active

| | | | |
| --- | --- | --- | --- |
| JSR Review Ballot | View results | Start: 2014-12-09 | End: 2014-12-22 |

Mark Reinhold, Oracle





Total displayed = 32