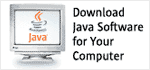 | | | |
| --- | --- | --- |
| | | |
| | | The Java Community Process (JCP) program applauds the community's Star Spec Leads. These leaders earned this honor through their efficient, prompt, and transparent communication with their Expert Group, the Program Management Office (PMO), and the Executive Committee (EC). They used community web pages, observer aliases, and other tools to communicate with their expert group, the JCP program community, and the public. They kept their Java Specification Requests (JSRs) on schedule by making sure their team stayed focused and felt appreciated. The JCP program congratulates and honors these Star Spec Leads. |

When it comes to involvement with Java technology, Eric Overtoom may be one of the most recent converts, but he has certainly made up for it by jumping straight into Spec Leadership.

As a Distinguished Member of the Technical staff at Motorola, Eric is involved in handset software architecture and internal API design, and, to some degree, system architecture. Armed with a master's degree in Electrical Engineering, he has also designed mobile phones and phone accessories, focusing on the interfaces that are used between components within the phone as well as interfaces used by the phone to communicate with other devices. He helped develop the specification for USB On-The-Go, along with some of the design of the USB subsystem within Motorola products. He also worked to define the interfaces used by applications to access and control the cellular telephony interface within the phone, as well as development of the cellular interface stacks for Advanced Mobile Phone System (AMPS) and Time Division Multiple Access (TDMA) cellular technologies.

Early 2003 is when Eric first began serious development work with Java technology, and his task was to develop Java technology level API's for telephony control. As a project lead and developer, Eric worked on mobile devices, based on the Java 2 Platform, Micro Edition (J2ME), which were targeted at both Connected Device Configuration (CDC) and Connected Limited Device Configuration (CLDC) class virtual machines.

The goal of these projects has been to develop a call control API for use from within Java technology, and this effort in combination with Siemen's work produced the major input for JSR 253, Mobile Telephony API (MTA). He became involved with the JCP program in September, 2004, when he became co-Spec Lead of JSR 253, along with Ekaterina Chtcherbina of Siemens AG.

The JSR 253 Spec Leads use their internal email list to exchange ideas, maintain weekly conference calls to discuss new comments and issues, and hold face-to-face meetings quarterly or as needed to further develop ideas. A web-conferencing service (Microsoft LiveMeeting) helps everybody on the conference call see the same information as it is discussed. The Expert Group page on http://jcp.org archives a complete history of the JSR development, interim versions of the specification, meeting minutes, input proposals, and other documentation.

Eric says that staying on schedule has been the hardest part of the work. "We've had to turn down several good ideas that would have made the JSR more inclusive to other mobile telephony areas because the scope of the change would have led to a large schedule delay. We've updated the schedule a bit to accommodate the work that has been needed, but if we can't identify someone who would use the feature immediately on release, we have been considering those features for future JSR releases."

Eric has learned to be considerate of multiple viewpoints. He believes it is best if the Expert Group involves not only those developing the JSR implementation, but also the eventual users of the JSR API -- cellular operators, in the case of JSR 253. "Having both developers/manufacturers and users has helped us to identify requirements that didn't come from the initial proposed API, and cases where the API as proposed would have led to extra work for application developers trying to use it (although less implementation work for the JSR developers). We've been able to balance the complexity between API implementation and application to share the pain," says Eric.

As for being a Star Spec Lead, Eric hit the ground running. He says, "I'm honored to be selected. It shows that the EG members believe that we're doing good work."

Eric does like to stretch his legs. Most of his private time is taken up with helping to bring up four children, ages five, four, two, and two months. When time permits, he does a lot of bicycling, taking as many kids as possible along for shorter rides. His personal goal is to bicycle in every state in the USA, and he's got 10 down, and 40 to go. Eric lives in Grayslake, Illinois -- about 40 miles north of Chicago, and 6 miles north of his work in Libertyville.

Go to the Star Spec Lead Program page for more information.



. . . . . . . . . . . . . . . . . . . . . . . . . . . . . . . . . . . . . . . . . . . . . . . . . . . . . . . . . . .