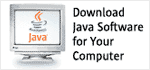 Discover the Latest from the JCP at Oracle Code One 2018

Learn what's happening with the JCP program, JCP.Next, Adopt-a-JSR, meet the 16th JCP Annual Award nominees and potential new JCP Executive Committee (EC) members.
Monday 10/22/2018

Tuesday 10/23/2018

Wednesday 10/24/2018

Hackergarten
Location: Oracle Code One in the Developer Lounge Loft (Moscone West, Level 2)
Times: 10:00 AM - 12:00 PM, 12:00 PM - 1:30 PM, 1:30 PM - 3:00 PM




Attend the Presentation of the 16th JCP Annual Awards

This year's JCP Award winners will be announced Monday evening during the annual JCP party at The Starlight Room, Sir Francis Drake Hotel.

This year's four award categories are JCP Member/Participant of the Year, Outstanding Spec Lead, Most Significant JSR and Outstanding Adopt-a-JSR Participant.

The JCP Member/Participant of the Year shines the light on one individual who has shown the leadership and commitment that led to the most positive impact on the community.

The Outstanding Spec Lead highlights the individual who led a specific JSR with exceptional efficiency and execution.

The Most Significant JSR recognizes the most significant new JSR for the Java community (Java SE, Java EE or Java ME) in the past year.

The Outstanding Adopt-a-JSR Participant recognizes the Java User Group (JUG) that has made the most exemplary contribution through the Adopt-a-JSR program in the past year.

The final list of nominees and their backgrounds will be posted soon. Stay tuned!

What is the Java Community Process (JCP) Program?
The JCP program is the open, participative process to develop and revise the Java technology specifications, reference implementations, and test suites. We're here to continually evolve the Java platform with the help of the international Java developer community. That's you.
Get involved in Java Technology through the JCP program.
First, anyone with an internet connection can review and comment on draft specifications and Java Specification Request (JSR) proposals, as well as read the JCP blog and follow us on Facebook and Twitter.
Next, you can register with the JCP and contribute directly by nominating yourself to join an Expert Group, maintain a watch-list of JSRs of interest, request to be associated with an existing JCP Member, or become a JCP Member.
And as you become more involved, you can even propose new JSRs, vote in the Executive Committee elections, and run for a seat on an Executive Committee. You're invited and welcome.
Visit the
JCP FAQ
to find quick answers.