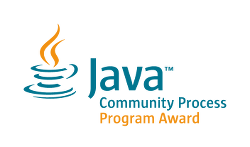 The Java Community Process (JCP) program celebrates success. Members of the community nominate worthy participants, Spec Leads and Java Specification Requests (JSRs) in order to cheer on the hard work and creativity that produces ground-breaking results for the community in the Java technology.
The community gets together every year, at Oracle Code One this year, to applaud in person the winners the JCP Program Awards. This year we have four award categories: JCP Member/Participant of the Year, Outstanding Spec Lead, Most Significant JSR and Outstanding Adopt-a-JSR Participant. This year's unveiling will occur Monday evening, 22 October, at the Annual JCP Community Party held at the Sir Francis Drake Starlight Room in San Francisco.
With great appreciation, now for the 16th year, the community recognizes the award nominees, listed below, with their nomination justifications. The award results will be announced at the Annual JCP Community Party at Oracle Code One 2018 on Monday, 22 October 2018.
Brian Goetz (Oracle) * Winner *

Brian has led the Java SE Platform JSRs, Java SE 10 and Java SE 11 bringing the six month Java platform release cadence to the Java community. He has also contributed input from the OpenJDK team to the JCP Executive Committee efforts to revise the JCP Program Process Document to bring the JCP Program in line with today's Java development reality.

Christian Kaltepoth (ingenit GmbH & Co. KG)

Christian is one of the spec leads for JSR 371 and is doing a tremendous job moving the specification forward. It would simply not be possible without him. He is also participating in other specifications, such as JAX-RS and contributing to Jersey.



Ivar Grimstad & Christian Kaltepoth (JSR 371) * Winner *

They did a great job on JSR 371, MVC Spec, always active in the project and very willing to help. Ivar is always in love with JCP and JSRs, not abandoning JSRs in need. JSR 371 is one of the few non-Oracle specifications, and one of very few carried out by individuals totally relying on community support. Not having an organization to back up the work puts extra weight on the spec leads. I think we are doing a great job, especially considering this is the first time we are spec leads.

Otávio Goncalves de Santana (JSR 385)

Otávio is a very active JCP member and specification leader of JSR 385, Units of Measurement 2.0 API. He is an active Expert Group member for 6 JSRs (JSR 354, JSR 363, JSR 365, JSR 367, JSR 377, JSR 380) and in last year (as has been for more than four years now), has been working with diverse initiatives to promote Java and the JCP program as well. As a spec lead, he organizes presentations and hackergatens around the world,. In 2018, he is a Google Summer of Code mentor who helps college and university students over 118 countries worldwide, developers, to write open source code with Unit 2.0. He presented about the JCP and Java technologies in Devoxx US, JavaOne Latin America, JavaOne and many Brazilian events. In such events, he's always present to coordinate Hackergartens that make promote the use of JSRs to developers. He was a key participant in the Java US JUG tour, talking to 10 JUGs about Java, the JCP and NoSQL across 8 Southeast US states. He also did a JCP European Tour, where he went to Italy, London, and France to talk about JCP to user groups and others in January 2017. At 2018, he covered Latin America cities such as Asuncion, São Paulo, Santiago, Buenos Aires, Lima, Mexico DF, Guatemala. Looking to the Java EE future, he's wishful to create the first Jakarta EE specification with Eclipse JNoSQL.



JSR 385, Units of Measurement API 2.0

It's an update of the first JSR targeted to help with the Internet of Things, tackling sensor readings from edge devices and measurements in a standard way. Made to work on multiple environments, both Java ME 8 Embedded and Java SE make it versatile across a large number of platforms and devices. JSR 385 is focused on the SI System redefinition, modularity, and support for Java SE 8/9 and above. It came from the first and so far only JSR other than the core Java ME 8 JSR 361 (MEEP) utilizing optionality and modularity towards both a minimal footprint on tiny devices and a Java 9 / Jigsaw compliant future.

JSR 371, MVC 1.0 Specification

The Spec Leads, Ivar, Christian, and the Experts Group, are doing an outstanding job at this Spec, and everyone is always active in the project. It has been very often received by other people and helping Spec to evolve with code, review, blog, video, lecture or even start a speech. This JSR worth wins this award, because the leaders' efforts not to abandon the JSR even though it is not included in Java EE 8, it remains firm to be a great success.

JSR 381, Visual Recognition Specification * Winner *

AI and Machine Learning are important trends, whether it's recognizing a container in a cargo terminal, a license plate on a motorway, a possible safety threat like someone carrying a weapon in a crowd or simply finding the right ingredients for a meal in your fridge. Visual Pattern Recognition is a vital aspect of AI. By providing it for Java and the JVM, JSR 381 allows to leverage the platform-independent, scalable nature of Java in an area so far dominated by more specialized languages like R or Python. Visual Recognition aims to support Machine Learning engines like Watson, TensorFlow or GraphPipe. Having a Java standard instead of proprietary, vendor specific APIs makes it easier to switch between different engines or combine them.



E. Berry, A. Huber, F. Van Laenen

Ellis Berry, Andi Huber and Filip Van Laenen have been extremely active contributing to JSR 385 as well as making the type-safe Units of Measurement support by JSRs 363 and 385 available for other JVM languages like Kotlin. They help to spread the word and share experience at conferences around the world like DevoXX, Java2Days, KotlinConf, OOP or JVM-Con as well as Java or Kotlin User Group MeetUps, Demo Camps and Hackathons. They are perfect example of how much you can participate and help improve JSRs as Contributors and Associate Members. Helping adopt and apply these Java and JVM technologies anywhere from a Smart Home to remote, Climate Change affected parts of the world in desperate need of clean water.

Daniel Dias Dos Santos * Winner *

Daniel is extremely active on JSR 371 mailing lists. He writes guides, tutorials and sample programs, files bugs, help resolve bugs, suggests improvements. He is actively posting on social media, and is simply a valuable community resource.

Ecuador JUG, Madrid JUG, Medellin JUG, Xela JUG

A joint effort by these South American Java User Groups was organized, leveraging the materials put together but the Virtual JUG around Java SE 9. The event was a Java SE 9 hack day, in Spanish, for the Spanish speaking Java User Group Members. This session showed key features of Java SE 9: Modularization, JShell and JLink. And the efforts continue from there to bring more Java content to developers in Spanish.




JCP Member/Participant of the Year - This award recognizes the corporate or individual member (either Member or Participant) who has made the most significant positive impact on the community in the past year. Leadership, investment in the community, and innovation are some of the qualities that EC Members look for in voting for this award.

Outstanding Spec Lead - The role of Spec Lead is not an easy one, and the person who takes that responsibility must be, among other things, technically savvy, able to build consensus in spite of diverse corporate goals, and focused on efficiency and execution. This award recognizes the person who has brought together these qualities the best in the past year, in leading a JSR for the Java community (Java SE, Java EE or Java ME).

Most Significant JSR - Specification development is key to the success of the JCP program and helps ensure we remain a fresh and vibrant community. This award recognizes the Spec Lead and Expert Group that have contributed (either in progress or final) the most significant JSR for the Java community (Java SE, Java EE or Java ME) in the past year.

Outstanding Adopt-a-JSR Participant - This award recognizes the Java User Group (JUG) that has made the most exemplary contribution through the Adopt-a-JSR program in the past year. The London Java Community and SouJava initiated, and are thereby implicitly recognized, in this effort for JUGs around the world to become more involved in the work of JSRs. Innovation, community engagement and technical impact are some of the characteristics that EC Members look for in voting for this award.