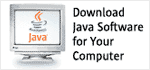 Status:

Maintenance


JCP version in use: 2.10
Java Specification Participation Agreement version in use: 2.0


Description:
JavaBeans Activation Framework 1.1 proposes a few minor changes to the JAF APIs to address the most commonly requested enhancements.



William Shannon
Oracle
Oracle
: William Shannon
This is the Maintenance of the JAF specification.
This JSR moved to JCP 2.10 with Maintenance Review 2 in March 2017.