Apply for the JCP
Program Member Logo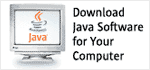 JSR-000086 Enterprise Media Beans
(Proposed Final Draft)

This Specification is Proposed Final Draft as per Section 3.2 of the Java Community ProcessSM Program, version 2.1.

Specification: Comments to: Early RI and TCK:
Development of the RI and TCK for this JSR continues, and the Spec Lead has posted early versions of these to assist with your evaluation of the specification. View http://oss.software.ibm.com/developerworks/projects/embri for more details.