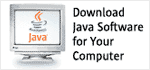 WHAT: The JCPSM Program Management Office (PMO) announced last night the winners of the 2010 JCP Program Annual Awards, which took place at at the JCP program community party at the JavaOne conference. The JCP program introduced the Annual Awards in 2003 to recognize excellence in Java platform standards development and innovation. The full list of 2010 nominees can be found here....

WHEN: September 22, 2010, 6:00 p.m. PST

WHERE: JavaOne Conference, Intercontinental Hotel, Pacific Terrace

The winners of the 2010 JCP Program Awards are:

JCP Program Member/Participant of the Year
Aplix

Outstanding Spec Lead
Ronald Tögl, JSR 321, Trusted Computing API for Java.

Most Innovative JSR
JSR 331, Constraint Programming, led by Jacob Feldman

Congratulations to the winners and all of the nominees!