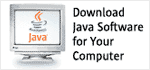 WHAT: The JCPSMProgram Management Office announced last night the winners of the 2009 JCP Program Annual Awards, which took place at at the JCP program community party at the JavaOne(SM) conference. The JCP program introduced the Annual Awards in 2003 to recognize excellence in Java platform standards development and innovation. The full list of 2009 nominees can be found here.

WHEN: June 2, 2009, 7:00 p.m. PST

WHERE: JavaOne Conference, Intercontinental Hotel, Pacific Terrace

The winners of the 2009 JCP Program Awards are:

JCP Program Member of the Year
Apache Software Foundation (ASF)

JCP Program Participant of the Year
Doug Lea

Outstanding Spec Lead for Java SE/EE
Ed Burns for JSR 314

Most Innovative JSR for Java SE/EE
JSR 316, Java EE 6 platform

Outstanding Spec Lead for Java ME
Mike Milikich for JSR 271

Most Innovative JSR for Java ME
JSR 271, Mobile Information Device Profile (MIDP) 3.0



About the JavaOne Conference
Located at Moscone Center in San Francisco, June 2-5,the JavaOne conference is the definitive venue to highlight the latest implementations, innovations and success stories in Java technology, scripting languages, Rich Internet Applications (RIAs), cloud computing, open source and more. Attendees can get hands-on experience, network with their peers, and have the opportunity to connect with technology experts and industry leaders.

For more information about the JavaOne conference, visit http://java.sun.com/javaone; view updates on Twitter; visit the JavaOne Facebook fan page; or download the JavaOne Facebook widget



About Sun Microsystems, Inc.
Sun Microsystems develops the technologies that power the global marketplace. Guided by a singular vision -- "The Network is The Computer"(TM) -- Sun drives network participation through shared innovation, community development and open source leadership. Sun can be found in more than 100 countries and on the Web at http://sun.com.



FOR MORE INFORMATION:

Heather VanCura
Group Manager, JCP Program Office
Sun Microsystems, Inc.
(650) 352-4906
heather@jcp.org


Sun, Sun Microsystems, the Sun logo, Java, JCP, JavaOne and The Network Is The Computer are trademarks or registered trademarks of Sun Microsystems, Inc. in the United States and other countries.



. . . . . . . . . . . . . . . . . . . . . . . . . . . . . . . . . . . . . . . . . . . . . . . . . . . . . . . .