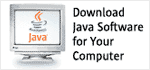 The 2008 JavaOne conference is the place to be!

The JCP is putting together a diverse set of events for the Java Community.


The JCP PMO offers special training for JCP program Expert Groups members and Spec Leads at JavaOne on Monday, May 5, at the Intercontinental Hotel, 888 Howard Street - San Francisco, CA, Twin Peaks Room from 9:00AM - 6:00PM
This year the training is dividede in three sessions:


General training 9:00AM - 10:30AM Hosted by Liz Kiener and Harold Ogle, JSR Program Managers, JCP PMO. Breakfast will be served.
SL/EG session including TCK session 11:00AM - 4:30PM Lunch (working lunch) will be served. This session will be delivered in sections and segments. Afternoon break will be followed by TCK presentation from 3:00PM - 4:00PM.
Media session from 4:30PM - 5:30PM hosted by Corina Ulescu, Marketing Communications manager, JCP PMO
Spec Leads and Expert Group Members can also reserve time on a first come, first served basis in the JCP Reserved EG Room at the Intercontinental Hotel, 888 Howard Street - San Francisco, CA, Fremont Room, Monday-Thursday, May 5 - 9. Sign up at the room, or contact Liz Kiener, JSR program manager (Liz@jcp.org or at 1 510 550 4353).
Every year at JavaOne the JCP invites honorees of the Star Spec Leads Program to a special dinner and gathering. This year the excitement begins on Tuesday, May 6, 7:30PM at the Intercontinental Hotel, 888 Howard Street - San Francisco, CA, Sutter Room with a special guest speaker. Spec Leads will have an opportunity to talk shop, network, and socialize with each other and members of the Program Office (PMO). Heather VanCura, Manager of the JCP PMO will announce the winners of the JCP Annual Awards.
This year the JCP Community Event is joining forces with the Java Open Source community for an "un-BOF" later on Tuesday evening at the Thirsty Bear. This is an opportunity for developers to get together with members of the JCP and the PMO in an informal setting.
For the latest update on the current Mobile Service Architecture status do not miss the panel discussion "Mobile Service Architecture: Spelling Out the LInk Between JSR Features and JSR Draft Reviews"
Thursday, May 8, 4:10PM. (For more information, contact Heather VanCura)
For the inside scoop on the latest opportunities for collaboration within the JCP, developers at JavaOne will want to check out the birds-of-a-feather session (BOF #5578) on "Who Needs Standards in an Open Source World?"
Thursday, May 8, 7:30PM Speakers: Patrick Curran, Chair of the JCP Program and Heather VanCura, Manager of the JCP PMO. (For more information, contact Heather VanCura)
All JavaOne attendees are invited to drop by the JCP pod #114 in the Pavilion, Tuesday-Thursday May 6 - 8. The Pavilion reception is being held Tuesday evening. At the JCP pod, JCP PMO representatives will be on hand to talk with anyone interested in becoming a JCP member. Current JCP members, experts, and spec leads can drop by to pick up a JCP program ribbon to add to their JavaOne attendee badge.
The traditional after-dark bash will take place Thursday, May 8, 7-10 pm. Stay tuned to the JavaOne conference site (schedule page) for details on the event.
Special Activity for Press Java developer reporters and analysts will have the opportunity to participate in an informal round table discussion on the dynamics between open source and the standards process on Wednesday, May 7. JCP chair and director of the JCP Program at Sun Microsystems, Patrick Curran, Spec Leads, Java champions and other pundits with experience in the open source and open standards fields will participate. Press and analysts interested in attending this event should contact Corina Ulescu (corina@jcp.org) for full details.


For more information or if you have any question about JCP @ JavaOne, please feel free to contact the JCP PMO.



. . . . . . . . . . . . . . . . . . . . . . . . . . . . . . . . . . . . . . . . . . . . . . . . . . . . . . . .