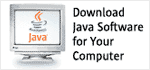 On the happy tenth birthday of Java technology, Duke is the same cute mascot he always was. However, the Java Community Process (JCP) program has changed quite a bit from even one year ago. With the launch of the JCP program, version 2.6, has come a positive culture shift that has ninety percent of the community members and nearly sixty percent of the non-members signaling their approval. Now that expert groups are required to operate with unprecedented transparency, community members and public participants are getting more involved in the process, causing JSRs to move along more quickly.

Java developers, architects, academics and executives from all over the world continue to join the program. The Java User Group (JUG), SouJava, recently joined the JCP program and continues to grow like crazy in Brazil, where Java technology is having a huge impact on healthcare, national disease tracking, and tax-filing systems, for example. Serpro, a Brazilian government contractor, just announced their intention to join the JCP program. Interest in China is also gathering momentum. Developers in India are beginning to take note of the JCP as well.

The changes brought about by JCP 2.6 are expected to continue to produce higher quality specifications and faster speeds to market of products that rely on the latest Java technologies. It is increasingly obvious that spec leads have a tremendous impact on the quality and speed of development, and the JCP program will kick off a program that will offer special recognition for star spec leads.

Ready for a whopping ten-year birthday celebration? On this year of all years, the JavaOne conference is the place to be:
JCP program expert groups members and spec leads get special treatment during JavaOne. They can receive training on Sunday, June 26, at the Argent Hotel, Franciscan I Room from 12:00 - 17:00. They can also reserve time on a first come, first served basis in the JCP Reserved EG Rooms at the Argent Hotel, 50 Third Street, Civic Room, Monday-Thursday, June 27-30. Sign up at the room, or contact Liz Kiener, JSR program manager (Liz@jcp.org or at 1 510 550 4353).
A special invitation only dinner and gathering for spec leads begins the excitement on Monday, June 27, 7 pm at the Argent Hotel, with a special guest speaker. The JCP star spec leads for 2005 will be recognized, and spec leads will have an opportunity to talk shop, network, and socialize with each other and members of the Program Office (PMO).
For the inside scoop on the latest opportunities for collaboration within the JCP, developers at JavaOne will want to check out the birds-of-a-feather session (BOF #1102) on "The Java Community Process (JCP) Program: How the Java Technology Binary Software Standard Is Managed and Evolves." This will include an open format discussion of the purpose of the JCP program, how to influence the future of Java technology, and how to participate in the collaboration. Monday, June 27, 8:30 pm. Speaker, Aaron Williams, manager of the JCP Program Office.
The JCP program's annual Java Community Event is not to be missed, with interactive networking opportunities for Java community enthusiasts, to be held Tuesday, June 28, 6 pm at the Argent Hotel, 50 Third Street, Metro II & III Rooms. The event reflects the openness and inclusiveness of the Java community. Everyone involved with or interested in the JCP, Jini, JXTA, java.net, and NetBeans communities will want to participate in this two-hour gathering, where community members can enjoy the reception appetizers and drinks and see who won community awards, including five JCP program awards. Executive Committee (EC) members are nominating candidates in May for the third annual JCP Program Awards and winners will be notified before JavaOne. Plus, a special guest appearance and photo opportunity with Duke!
All JavaOne attendees are invited to drop by the JCP pod #811 in the Sun Microsystems booth at the Pavilion, Monday-Wednesday June 27-29. The Pavilion reception is being held Monday evening, and will include an "Ask the Experts" component. At the JCP pod, gifts will be handed out and representatives of the JCP PMO will be on hand to talk with anyone interested in becoming a JCP member. Current JCP members, experts, and spec leads can drop by to pick up a JCP program ribbon to add to their JavaOne attendee badge. Follow JCP signs for a self-guided Pavilion tour of JCP EC members and their technologies.
The after-dark Java ten-year birthday bash will take place Wednesday, June 29, 7-11 pm. Stay tuned to the JavaOne conference site (schedule page) for details on the event.
Special Activity for Press Java developer reporters and analysts will have the opportunity to participate in an informal round table discussion on the JCP program. JCP chair and director of the PMO, Onno Kluyt, and EC members will be available. Contact Corina Ulescu (corina@jcp.org) for more details.

. . . . . . . . . . . . . . . . . . . . . . . . . . . . . . . . . . . . . . . . . . . . . . . . . . . . . . . .