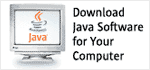 First, make a note of the Java Community ProcessSM (JCPSM) Training scheduled on Monday, May 15 2006, and hosted by the Program Management Office(PMO) at the Argent Hotel, Franciscan I, in San Francisco.
It's a one-day session from 11:00 a.m. - 6:00 p.m. PST in which you will become knowledgeable about the premier JavaTM standards body in the industry. You'll learn about the JCP Program, what it is all about and how you can leverage it to best support your Java projects. The rigorous JCP JSR review process will be explained by the pundits themselves. You'll familiarize yourself with the requirements of the spec lead role. And you'll acquire the knowledge indispensable to developing a JSR proposal and taking key JSRs deliverables to the finish line. End of the day, you'll build community savvy that you can later on teach to your colleagues. And as a bonus exclusive to JCP Training attendees at JavaOne you'll get a pre-view of the upcoming JCP.org site - a new version of the current JCP virtual home enhanced with friendly features designed to help you become an effective user of the site. You'll be given highlights of how you can best leverage the JCP.org site and its new powerful features designed to support high levels of cooperation among experts and help Spec Leads and Expert Groups deliver timely and quality Java standards.
Everyone interested in finding out more about the JCP Program and the community around it is invited to attend, JCP membership is not required. Your contact for this event is Liz Kiener at Liz@jcp.org.

If you are already a JCP member, plan to attend the JCP Community event on Wednesday, May 17, at 6:30 p.m., at the Argent Hotel in the Pavilion. With a couple of successful editions under its belt this gathering of experts has become by now a staple of the JavaOne Conference. Every year it draws a 'who's who' mix of Java technology architects known around the world, spec leads who have signed their names on the most popular Java standards, JCP Executive Committee representatives, the chair of the JCP who announces the winners of the JCP Annual Awards. It's a unique opportunity for JCP members to network with top Java experts, and with other JCP members. Your contact for this event is Max Lanfranconi at Max@jcp.org or tel +1 408 404 6893.
You can also read more about the event here

Another event for members is the Spec Lead dinner at which the community recognizes the highly effective spec leads for their above par contribution to the development of Java standards. For details about participation contact Liz Kiener at Liz@jcp.org

And if you are a Java ME developer or plan to become one you don't want to miss a chance in a million brought to you by the JCP -- the Technology Session (TS) 2141, Develop Rich Competitive Applications for Mobile and Client Side Environments with Java ME Technology Standards on Thursday, May 18, 9:30 p.m. at the Moscone Center, Esplanade 303/305. This BOF will offer attendees the latest information from Java technology pundits participating in the development of Java platform standards through the JCP. Speakers will evoke highly technical and provocative topics highlighting the most recent Java ME standards work aimed at creating rich competitive applications for mobile and client side environments. Different angles and points of view will ensure a dynamic debate for those interested in discovering the cutting edge of mobility and client side computing and building a competitive advantage based on it. The latest information on the topic will be brought to you by the Java ME standards leaders themselves and you will learn first hand what improvements are to be expected in the field in the future. These events and the JCP Round Table ?"The Power of Java: Perfecting Developer and User Experience with Java Technology Standards" are open to press and analysts participation (RSVP only). The contact for this event is Corina Ulescu at Corina@jcp.org or +1 408 276 6159.

It's less than a month now until the 2006 JavaOne Conference opens its gates to welcome Java fans from all over the world so don't delay to sign up to secure your participation at these events!