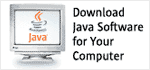 The celebrations that marked the tenth anniversary of Java technology have wrapped up, but the successes of the Java Community Process (JCP) Program and the Executive Committees (EC) that guide it keeps on coming. In interviews conducted shortly after the JCP EC elections of December 2005 the newly elected and ratified members of the Micro Edition (ME) and Standard/Enterprise Edition (SE/EE) ECs shared their thoughts about Java technology's evolution and its future. They are unanimous in their belief that the technology has come a long way and the combination of teamwork and hard work will continue to make its future bright. Check out their views.


IBM, David Girle

IBM, as the world's largest information technology company, has been a substantial contributor to the Java Community for a decade. IBM is represented in Java ME by David Girle, a senior software developer who has been involved in various Java technology projects since 1998, including most recently the development lead for SyncML4J, a synchronization framework written in the Java language. "IBM is heavily investing in the success of Java technology - In the Java ME space, IBM provides VM ports to more than 20 environments, together with support for a broad range of configuration, profiles and JSRs" Girle says. He says IBM's representatives, whether leading or participating in Expert Groups and Executive Committees, will continue to use their expertise and technical resources to make contributions for the betterment of the Java Community and to help guide the Java platforms' evolution and development.

Nokia, Pentti Savolainen

Nokia is represented by Pentti Savolainen, who brings a record of experience in software R&D, sales and corporate collaborations. Nokia has been an active member of the ME EC since its establishment. "Our goal is to develop the JCP program toward more open standards organization while maintaining its effectiveness, and increasing Java technology competitiveness and acceptability," said Savolainen, who heads the Nokia team that has responsibilities for terminal Java API related standardization, industry cooperation and preparation of JCP standards for implementation into Nokia terminals. He said Nokia expects to continue aiding the JCP program effort by promoting such goals.

In addition to the EC work, Nokia is also a very strong contributor in the practical Java Specification Request (JSR) Expert Groups (EG), currently leading 17 Java ME related JSRs adding new functionality to Java technology, Savolainen noted. Even if Java technology has gained some significant wins in some areas, such as downloadable games for Java enabled mobile terminals - Java and the JCP faces many challenges to stay competitive, he said. Those challenges include reducing fragmentation of the technology, a need for speed and innovation, and better architectural solutions, to mention some, Savolainen says. "To speed Java technology development and innovation the JCP needs to open up and find ways to better enable quick endorsement of development from outside JCP as well," he says. Java ME technology also needs new architectures to address future challenges and allowing for creation of wider selection of different applications and compelling services by the developers and the industry.

Royal Philips Electronics, Jon Piesing

Philips became interested in the JCP program as Java technology was built into a number of its products and became a JCP program member in 2000.

Royal Philips Electronics is now one of the world's biggest electronics companies and Europe's largest. Jon Piesing's breadth of understanding of Java technology issues -- technical, business, and licensing -- in general and of Philips' products in particular make him an ideal representative.

Piesing says the most important issues facing the JCP program are structural rather than technical. He says the process is too "bottom-up," and needs more structure. "One significant issue is the excessive cumulative cost of TCKs for all the individual JSRs," he says. "While it would be very helpful for the executive committee to address this, it seems costs are hard to discuss while remaining within the limits of what is allowed by anti-trust law."

An issue that might be easier to address is providing greater transparency into the progress and schedules of expert groups, he says. This would help those whose main interest is the (future) existence of a JSR for a particular feature rather than the details of its contents, Piesing says. In the future he said he expects the process will become more transparent to non-members of expert groups. He said that the most likely technology advance in Java ME is the ability to reliably run multiple applications/MIDLets/Xlets at the same time including killing one of them without interrupting the others. "This won't directly help application developers but it would be a positive improvement to the end-user experience," Piesing said.


Symbian, Stuart John

Symbian has a long history of active participation in the JCP program and JSR specification development for the mobile Java standards and their implementation into smartphones. We spoke with Stuart John who at the time of the interview was Symbian's representative on the ME EC. Stuart notes that ten years ago his team "was flat out at work on the genesis of what would eventually be known as v1 of Symbian OS: a 32-bit operating system targeted at PDAs and advanced mobile phones." It didn't take long for news of Java to take hold, and he adds that collaborative work with Sun began in 1997. "Since then, more than 50 million Symbian OS mobile phones have shipped containing Java technology", he specifies.

John says participation in specification development provides early visibility of the building blocks for future applications and helps reduce fragmentation in the existing platform. He says that the most pressing high-level matter facing the mobile IT industry may be dealing with complexity. "To appeal to mainstream end users, the devices have to hide all this complexity, providing a veneer of simplicity that appears to anticipate users' needs," John says. "Get the design wrong, and the complexity spills out, confusing and frustrating users." To keep a lid on the demons of complexity, the mobile IT industry needs to keep in mind the injunction to "cooperate before competing." John says there is little point in companies gaining a few additional percentiles in what is still a relatively small market - it's far better to grow this market to its greater potential.

Over the next few years, smart mobile devices will dramatically increase their value for entertainment, education, and enterprise purposes alike, he says. "They'll help their users to keep in touch with the conversation, issues, and information that's important to them," John says. "They'll integrate more and more of the functionality that presently requires many separate objects." Each such integration provides the possibilities for new "killer applications" in the intersection of functionality that used to be separate, he says. These devices will build on the power of the mobile phone phenomenon to provide "always on" social computers. "Java APIs to this new functionality will be crucial to allowing novel services to appear in quick response to newly identified user needs," John said.

Sony Ericsson, Hanz Hager

Sony Ericsson has taken an active role in the ME Executive Committee and has been working to ensure an open, well-managed community since joining the EC in 2002. Sony's representative, Hanz Hager, is the Java Product Manager in charge of product strategy, planning, requirements, and execution, and he oversees all inbound licensing of Java technology for Sony Ericsson. He's been involved in all projects that embed Java technology into Sony Ericsson handsets. He marvels at how, from its modest beginnings, "the J2ME marketplace is becoming the largest installed base of developer platforms with almost 1 billion units."

One of the most important issues facing the executive committee is fragmentation in the wireless industry, Hager says. "It has been discussed a lot lately," Hager says. "Everyone has their view of how fragmented it is and what the problems are. In my view the Java ecosystem for mobile devices is not very fragmented any more, but we are starting to see a new type of fragmentation when different carriers start setting different rules for their markets." This will make it hard to work globally for small players and this will most likely kill some of those efforts, he warns.

Looking to the future, Hager says it is very clear that there is a desire to have a more flexible Java technolgoy stack in mobile devices. "CLDC has been found a bit to restrictive for that," he says. "Therefore we will see bigger and bigger importance of CDC based solutions."More and more systems will also have the capability to execute multiple applications simultaneously, Hager says, and backwards compatibility with MIDP/CLDC will continue to be important.