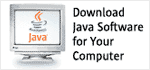 Ericsson, Jens Jensen

Jens is an Expert in Open Platform Architectures and has worked with Java technology since 1997 and with Java technology in clustered high availability platforms since 2000. He is the specification lead for JSR 319, Availability Management for Java. He is also an evangelist for the use of Java in the telecom industry through the industry forums SCOPE, an industry alliance committed to accelerating the deployment of standardized platforms, and Service Availability Forum (SAF), a consortium developing HA interface specifications. Within SAF he is the main driver for adapting SAF APIs to effectively support integration with Java technology.

SAP, Michael Bechauf

Michael is responsible for SAP's standards strategy and participation in industry consortia. He is also responsible for the SAP Developer Network, a community of 1.4 million individual developers using the SAP NetWeaver platform. Michael has been a member of the JCP EC since 2001 and a Board member of the Eclipse Foundation since 2002.



SAP, Vicki Shipkowitz

For over 15 years, Vicki Shipkowitz has worked along side other industry leaders at companies including SAP, Sun Microsystems, and Adobe Systems to drive products and technology platforms that have become ubiquitous within enterprise, media and mobile computing. In her current role, as Director of Strategy and Operations within SAP's Standards organization, she has participated in the governance of organizations defining standards to enable Service Oriented Architectures. This has included serving since 2003 as SAP's alternative representative on the EC of the JCP.

Springsource, Rod Johnson

Rod Johnson has served as CEO of SpringSource since the company's inception and has more than 12 years of technology and management experience. Rod is one of the world's leading authorities on enterprise Java development. Rod created and initiated the development of Spring. The Spring Portfolio of open source projects was based on the code published with Rod's best-selling Expert One-on-One J2EE Design and Development (2002). Rod has specialized in server-side Java since 1996 across a wide range of industries. Rod's hands-on experience has led him to see problems from a client's perspective as well as a technology perspective, and has driven his influential criticism of bloated, inefficient approaches to J2EE architecture.