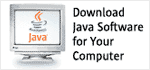 Fields marked with a * are required. All required fields must be completed before the form can be accepted.

If you are an individual Member, you will also need to provide an Exhibit B signed by your employer.

JCP login: If you do not know your JCP login but believe you have one, please use the password reminder page to have the login sent to your e-mail address.