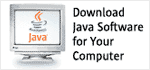 General questions | Membership questions | JSR and Expert Group questions | Spec Lead process questions | Login questions | Web Site questions | Glossary




Q: I just did a search for "XYZ" and the search came back with "The specified JSR was not found" or the JSR I wanted is not in the results list. What's going on?
A: The JSR search function looks at three fields: the JSR number, the JSR's title, and the JSR's description. If the term you entered into the field is not in any of those fields for the JSR, you will not be able to find the JSR page with the search feature..

Q: I did a search for multiple terms in the JSR search: "apples and oranges". I got a bunch of results that weren't what I expected. What happened?
A: Search looks for each of the search terms separately, so you got a combination of results: matches with "apple", matches to "oranges" and matches to "and".

Q: I want to reorganize my Watch List, but no matter how I add them to the list, the JSRs are always sorted in a strange order. What can I do?
A: At the moment there is no way to change the order of the JSRs listed on the "My JSRs" page.

Q: The site prompted me to login with a prompt in the main content area of the page (ie, not the left nav), but login failed. What do I do?
A: You should always be logging in using the left nav. If you find an instance of a login screen in the main content area of the site, please report it to webmaster jcp.org.

Q: I've tried logging in using the left nav and it doesn't work, but I know that I'm using the correct login information. What should I do?
A: Your ISP may have a novel way of handling IP addresses, which makes the jcp.org site's think that the login request is coming from a different location. So you may want to try the alternative log in without IP checking, found on the login help page. From anywhere on the site when you're not logged in, you can click "Forgot your login information?" in the left navigation bar to reach that page.

Q: I submitted a JSR nomination a while ago. How do I check the status of my nomination?
A: Log in to jcp.org, then click "My JSRs" in the left nav. The resulting page shows all of the JSRs you lead, all the JSRs for which you are an expert, and all of your pending nominations. Each pending nomination will show how the Spec Lead and the PMO has voted, and a legend on that page shows what each vote means. If you have any questions about a vote, contact the Spec Lead or the PMO directly.