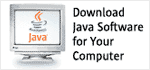 The materials on this page are provided by the Maintenance Lead of this JSR for evaluation and feedback.
These materials are not final, and are subject to change as the JSR progresses through the process.

Transparency plan from August 2008:

JSR 914 (Java Message Service (JMS) API) is a mature specification; the last maintenance release was in 2003. The expert group has no members other than myself, the Sun-appointed spec lead.

The website for the most recent update is http://jcp.org/aboutJava/communityprocess/final/jsr914/index.html

This invites comments to be sent by the public to jms-comments@sun.com.