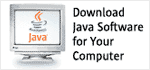 The materials on this page are provided by the Spec Lead of this JSR for evaluation and feedback.
These materials are not final, and are subject to change as the JSR progresses through the process.


JSR 360 Java.net project
Information about JSR 360 specifications, discussions and issues is located at http://java.net/projects/jsr360.
Transparency Checklist
Is the schedule for the JSR publicly available, current, and updated regularly?

The schedule is maintained on the Community Summary of JSR 360.

Can the public read and/or write to a wiki for the JSR?
Is there a publicly accessible discussion board for the JSR that you read and respond to regularly?

The mail lists are available at JSR 360 Mail lists.

Have you spoken at conferences and events about the JSR recently?

For JavaOne 2013, CLDC 8: New Features and Opportunities for the Small Java Core Libraries - [CON4951] describes the new features of CLDC 8. The spec leads presented several sessions at JavaOne 2012.

Are you using open-source processes for the development of the RI and/or the TCK?

No

What are the Terms of Use required to use the collaboration tools you have prepared to use with the Expert Group, so that prospective EG members can judge whether they are compatible with the JSPA?

For the JSR 360 the terms of use are those of Java.net.

What is the location of your publicly-accessible Issue list?

The issues are tracked at: https://javafx-jira.kenai.com/browse/MESPEC/component/10660.

What is the mechanism for the public to provide feedback on your JSR?

Add specification issues to the issues list, provide feedback to the observer email alias at: jsr360-observers@jsr360.java.net.

Where is the publicly-accessible document archive for your Expert Group?

In the "Downloads" area at: http://java.net/projects/jsr360/downloads.

Does the Community tab for my JSR have links to and information about all public communication mechanisms and sites for the development of my JSR?

Yes, it includes the link to http://java.net/projects/jsr360.
JSR 360 Proposed Schedule
JSR Approval Oct 16, 2012
EG Formation: Feb 15, 2012
Early Draft Review: April 2013
Public Review: August 2013
Final Draft : February 2014
Final Release : April 2014