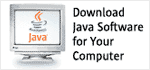 The materials on this page are provided by the Maintenance Lead of this JSR for evaluation and feedback.
These materials are not final, and are subject to change as the JSR progresses through the process.

Please go to http://java.net/projects/websocket-spec to see how to join the observer list for this JSR.

Recommended Areas for Providing Feedback
Download and use with the WebSocket RI (already integrated in GlassFish 4)
Create endpoints using annotations.
Explore programmatic endpoint, especially on ease-of-use and flexibility.
Try applications across multiple browsers and devices.
Create subprotocols over WebSocket endpoint.
Try integration with other Java EE technologies - such as EJB, CDI, JPA, and Servlets.

Post your feedback to users@websocket-spec.java.net and follow the guidelines for visibility.

References for Getting Started

Contact/Comments
Please direct any questions or feedback to the Maintenance Lead, Pavel Bucek or the users@websocket-spec.java.net alias. Note that Danny Coward was the Specification Lead only until the JSR posted its Final Release, and now is not involved in the maintenance of the JSR. Please do not send your feedback to Danny.