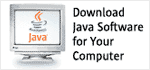 The materials on this page are provided by the Spec Lead of this JSR for evaluation and feedback.
These materials are not final, and are subject to change as the JSR progresses through the process.


Planning and Timeline
Second Public Review (version 0.8) has been passed successfully.
In the mean time we decided to base the API on Java 8 instead of Java 7 (currently version 0.9-SNAPSHOT). This simplifies the API regarding various aspects and quite probably will simplify/enable a later includion into the JDK (JEP must be filed soon).
Proposed Final Draft is targeted for August /September 2014.
Release target will be end 2014 (Q4).
If you any questions just drop a mail on the JSR's public mailing list jcurrency_mail@javamoney.java.net or the spec lead atsticks@java.net.
JSR Resources
Adopt this JSR
If you want to adopt this JSR or contribute, you are welcome.
Please write an email to

to discuss, where you can help the best.

Currently the following areas were great for helping us:
Just playing around with the API/SPI and give feedback, where it can be improved, or things are unclear.
Reading and checking our JavaDoc in the RI/TCK for correctness, typos and comprehensiveness.
The RI may profit well from additional tests to be written.
We have moved our specification from GoogleDoc to Asciidoctor (now contained in src/main/asciidoc in the API module). Whereas HTML output works perfectly, rendering PDF does fail. So if somebody knows well asciidoctor, help in that area would be welcome.
The TCK has also progressed well. Only a few tests are missing. Nevertheless the existing TCK must be checkedm if all possible test failures have well descriptive messages in place.
Additionally our public finance library project, that evolved out of this JSR, should progress further. Hereby all contributions are welcome, from coding, testing, documentation, Wiki, ...
Similarly our JSR Examples may be extended and completed, or adapted to the latest changes.
Conferences and Speeks
2013
Codemotion in Rome, Italy from 20th to 23th March 2013.
Berlin Expert Days on 4th/5th April 2013 in Germany.
JavaOne Russia on April 23-24 2013, Moscow, Russia.
Codemotion Berlin on May 10-11 2013, Berlin, Germany.
JavaOne India
JUG Austria on June 10th 2013.
JavaOne Shanghai has been cancelled due to illness
JavaOne San Francisco, September 24th 2013: BOF5267 - Money & Currency in Java, the presentation can be downloaded here
Jazoon (Zurich, Switzerland)
Softshake (Geneva, Switzerland)
Eclipse Finance Day (Zurich)
2014
JavaLand (Germany)
UBS AG (Swiss Bank)
JUG Frankfurt (Germany)

If you wish to join this JSR's observer alias, send email to the Spec Lead of this JSR:

Anatole Tresch