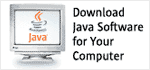 The materials on this page are provided by the Spec Lead of this JSR for evaluation and feedback.
These materials are not final, and are subject to change as the JSR progresses through the process.


Planning and Timeline
We plan to submit our Early Draft Review (version 0.1) by the end of November 2013.

Proposed Final Draft is targeted for March 2014.

Release target will be middle of 2014 (Q2).
If you any questions send email on the JSR's public mailing list
feedback@java-state-managemen.java.net
or directly to the spec lead
mitch.upton@oracle.com
JSR Resources
Project Web Page:
https://java.net/projects/java-state-managemen
Public Mailing List:
feedback@java-state-managemen.java.net
Source Code Repository:
git://java.net/java-state-managemen~src-git
Adopt this JSR
If you want to adopt this JSR or contribute, you are welcome.
Please write an email to
to discuss, where you can help the best.

If you wish to join this JSR's observer alias, send email to the Spec Lead of this JSR:

Tim Watson