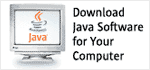 The materials on this page are provided by the Spec Lead of this JSR for evaluation and feedback.
These materials are not final, and are subject to change as the JSR progresses through the process.



This JSR is being run as a java.net project in order to provide greater transparency to the community.

The email archives for this JSR can be viewed at <http://jsf-spec.java.net/lists>.

To receive emails directly, do the following steps.
Please sign up as a java.net member at <https://java.net/people/new>.

Click the "Bookmark This Project" link on <http://jsf-spec.java.net> to join the project as an Observer.

Observers of the project can subscribe to the users@javaserverfaces-spec-public.net email list. This list is a reflector for the expert group email list (jsr344-experts@javaserverfaces-spec-public.java.net) and receives all emails that are sent to the experts list. It can also be used for community discussion related to the JSR.
Recommended Areas for Providing Feedback

Normalize spec generated documentation to be more unified (Thomas Modeneis is helping)
Update ScrumToys to take advantage of new features in JSF 2.2 (Spock from GlobalCode is helping)

Create Maven-based SSCCE (Short Self Contained Correct/Compilable Example) for:


Resource Library Contracts (see spec PDF section 10.1.3 Resource Library Contracts Background)
Faces Flows (see spec PDF section 7.5 FlowHandler)
HTML5 Friendly Markup (see class TagDecorator in http://jsf-spec.java.net/SNAPSHOT/javadoc/)
Use the following archetype:

javax.faces
javax.faces-war-archetype
2.2-SNAPSHOT

from the following repository:

https://maven.java.net/content/repositories/snapshots/

to get started.

Post your feedback to users@javaserverfaces-spec-public.java.net and follow the guidelines for visibility.

References for Getting Started