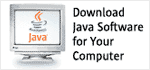 The materials on this page are provided by the Maintenance Lead of this JSR for evaluation and feedback.
These materials are not final, and are subject to change as the JSR progresses through the process.



This JSR is being run as a java.net project in order to provide greater transparency to the community.

The email archives for this JSR can be viewed at http://java.net/projects/jpa-spec.

To receive emails directly, please sign up as a java.net member at https://java.net/people/new, then
click the "Bookmark This Project" link on http://java.net/projects/jpa-spec to join the project as an Observer.

Observers of the project can subscribe to the users@jpa-spec.java.net email list.
This list is a reflector for the expert group email list (jsr338-experts@jpa-spec.java.net)
and receives all emails that are sent to the experts list. It can also be used for community
discussion related to the JSR.

The schedule for this JSR is as follows:
Public Review: Q4 2012
Proposed Final Draft: Q1 2013
Final Release: Q2 2013
Recommended Areas for Providing Feedback

Schema Generation using javax.persistence.schmea-generation.* properties.
Entity graphs
Unsynchronized persistence contexts
Update/delete using Criteria API
Stored procedures using StoredProcedureQuery and @NamedStoredProcedureQuery
Feature requests (You can file RFEs in the jpa-spec JIRA. It would be best if such an RFE contain reasons why it is a useful proposal and how you would prioritize the feature.)
Post your feedback to users@jpa-spec.java.net and follow the guidelines for visibility.


References for Getting Started


Create new samples and file issues in JIRA in any of these categories.