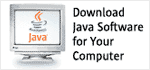 The materials on this page are provided by the Spec Lead of this JSR for evaluation and feedback.
These materials are not final, and are subject to change as the JSR progresses through the process.

The following information has been updated from the original JSR:

2008.07.09: New Schedule

Initiation: January 2007

Expert Group Formation: February 2007

Early Draft Review (EDR): Sep 2007

Public Review (PR): Sep 2008

Proposed Final Draft (PFD): Dec 2008

Final Release (FR): Mar 2009

********************
Transparency checklist for JSR 309:

The public can read who is on the Expert Group.
Answer: Companies representated on the expert group are listed on the public portion of the JSR 309 JCP site.

The Expert Group business is regularly reported on a publicly readable alias.
Answer: The jsr-309-observers alias is being used to report new milestone releases of the JSR.

The schedule for the JSR is publicly available, it's current, and I update it regularly.
Answer: Yes, the original schedule has been updated and we update it regularly.

The public can read/write to a discussion forum or wiki for my JSR.
Answer: Yes, there is a public forum jsr-309-public on the JSR 309 JCP site

There is an issue-tracker for my JSR that the public can read.
Answer: No, currently the issue tracker of our JSR 309 java.net project is only accessible to expert group members and employees of expert group companies upon request.

I have spoken at conferences and events about my JSR recently.
Answer: Not at Public conferences. Some EG companies and Spec Lead have published papers or communicated information about the JSR 309 on the web.

I am using open-source processes for the development of the RI and/or TCK.
Answer: RI and TCK are not developed under an Open Source license. They do rely on some open source technologies such as JUnit and Cactus.

Comments for JSR 309 have to be sent to JSR 309 discussion board.