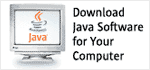 The materials on this page are provided by the Spec Lead of this JSR for evaluation and feedback.
These materials are not final, and are subject to change as the JSR progresses through the process.

See http://douglocke.com/SCJ for the latest information on Safety-Critical Java specification and other project information.

In addition, follow Twitter hashtag #SCJava for updates and other community related information.

The JSR-302 Expert Group has been actively working to complete the draft specification, and is also working on the Reference Implementation and the TCK. As part of that work, the group has created a complete draft specification that is now publicly available as our third Early Draft Review

The JSR-302 EG continues to meet by phone every week. In addition, we have held a number of face-to-face meetings such as the one following the 12th International Workshop on Java Technologies for Real-time and Embedded Systems (JTRES) in October 2014. At all of the JTRES workshops since 2007, many of the papers reflected research on real-time and safety-critical Java technology by researchers taking advantage of our broad visibility in those communities.

Our specification is now complete. Our most recent updates have been necessitated by our dependence on the ongoing JSR-282 work - several of our chapters have been affected by updates to their chapters as recently as December 2016.

The RI is now being updated to reflect the latest changes, and the TCK is being built at the same time.