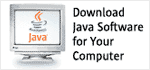 The materials on this page are provided by the Spec Lead of this JSR for evaluation and feedback.
These materials are not final, and are subject to change as the JSR progresses through the process.

This JSR is being run as a java.net project in order to provide greater transparency to the community.

The email archives for this JSR can also be viewed at http://java.net/projects/concurrency-ee-spec.

Observers of the project can subscribe to the users@concurrency-ee-spec.java.net email list. This list is a reflector for the expert group email list (jsr236-experts@concurrency-ee-spec.java.net) and receives all emails that are sent to the experts list. It can also be used for community discussion related to the JSR.

Recommended Areas for Providing Feedback

Provide feedback on ContextService interface
Suggestions on standard configuration attributes for ManagedExecutorService object.
Implement some interesting Triggers, such as one that supports UNIX crontab or calendar-based timer expressions in EJB.
Help document and test RI code
Write examples on how you would use JSR 236 objects.

Post your feedback to users@concurrency-ee-spec.java.net and follow the guidelines for visibility.

References for Getting Started