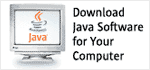 Change Log for JSR 160 Maintenance Review 1
Éamonn McManus, JSR 160 Maintenance Lead
This is the Change Log for the first Maintenance Review of JSR 160. Questions and comments on this Change Log should be directed to jmx-spec-comments@sun.com.
This Maintenance Review defines version 1.3 of the JMX Remote API as originally defined by JSR 160. The API version number jumps from 1.0 to 1.3 to match the numbering of the JMX API, JSR 3.
The 7-digit code numbers associated with each change are identifiers in the public bug database at bugs.sun.com.
A larger set of updates to the JMX Remote specification is planned as part of JSR 255, "JMX Specification, version 2.0". The changes proposed in this Maintenance Review are intended as interim steps towards JSR 255. These changes have all been approved by the JSR 255 Expert Group.
An updated standalone TCK will be available that reflects the changes in this Maintenance Review. In addition, it is intended that these changes will be included in the Java SE 6 ("Mustang") release.
The following changes are made to the specification generated by the Javadoc tool.