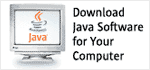 Hani isn't disturbed enough to put down his tools. In fact, he's out there spinning more Java code in an array of projects that might also survive the onslaughts of time: "Lone one-man hobbyist projects, open source projects, huge boring integration projects, mission-critical trading desk projects, small team ambitious conquer-the-world type projects, you name it!" He's doing it.

For the first few years, Hani engaged as a developer and indirectly as a vendor, meeting customers face to face. "Clambering up the corporate ladder" these days, his interest in development now weaves in and out of his responsibilities as project lead, and he finds himself again in the danger zone of having a more direct vendor relationship with customers. As he puts it, "Some days that seems like a good thing, but on many other days, is a terrible thing." (If you want to know more, you'll have to ask hani@formicary.net.)

Holding a B.Sc. in Computer Science, Hani has participated in numerous projects in the finance industry, ranging from specialized portal and content management solutions to back office integration projects to trading desk swing apps. As CTO of Formicary, a vendor offering financial solutions, Hani says he works with a wonderful group of people and is very proud of the work they have done on their portal product (epix, at http://www.go-epix.net) as well as numerous other projects they are engaged in. Hani is also working concurrently on the Orion Application Server made by Ironflare.

A fairly new member of the JCP, Hani joined in 2004. Already he's up front and personal as a member of three expert groups: Java Specification Request (JSR) 244 Java 2 Platform, Enterprise Edition (J2EE) 5.0, JSR 245 JavaServer Pages 2.1, and JSR 250 Common Annotations for the Java Platform. He also relishes his role as "beady-eyed observer" of JSR 220 Enterprise JavaBeans 3.0 and a handful of other J2EE specs. Clearly, Java technology has got a grip on this man. "For me this is definitely a labor of love, beyond the 'bread on the table' aspects of it all. It's hard not to feel passionate about something one spends most of one's waking hours on."

Hani calls three countries home right now. He lives in New York City in the U.S., commutes regularly to London in the U.K., makes a yearly sojourn to his point of origin, Oman, where friends and family remain. When he's not coping with jetlag, Hani can be found scuba diving, gourmet dining, and hunting down independent movies to watch. He also maintains his lively and often controversial bileblog, where he enjoys ranting and raving about any aspect of the Java universe that strikes him.


. . . . . . . . . . . . . . . . . . . . . . . . . . . . . . . . . . . . . . . . . . . . . . . . . . . . . . . . . . .