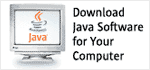 Professionally, Craig Smithpeters is into television. For fun, he likes to travel, hike with his dog, and read. Equipped with a BS in Information Systems from the University of South Florida and an MBA from the University of Florida, Craig migrated to Atlanta, another humid locale. He is now Manager for Advanced Technology and Standards for Cox Communications, the third-largest cable provider in the U.S.

Craig was actively developing applications for set top boxes (STBs) when Java became a viable platform for the devices. In the late 1990s, a European-based consortium put forth the Multimedia Home Platform (MHP) standard for interactive television, based on the Java language. Meanwhile, some American STB manufacturers were looking to build Java technology into their products to make the development of applications for them easier. Craig says, "I was already engaged in that, so it was a natural transition to begin working with Java technology in 1999. At the same time I was developing a lot of server side systems as well, and Java was much easier to write, so it was kind of a rapid transition, but once I started working with Java I was like, 'My goodness, the time I've wasted with things you don't have to worry about in Java!'" .

Craig is acquainted with Java technology as user, project lead, and developer at Cox and previously at Nielsen Media Research, the television ratings company. He says, "I've been involved in just about every aspect of Java technology that has been around for the last few years. I'm a big fan!" Some of his past projects include development and implementation of technology strategies, as well as development of Java client applications for STBs and other embedded devices and mid- to large-scale Java server applications. In his current role within the Multimedia Engineering department at Cox Communications, Craig manages all aspects of deploying OpenCable and the OpenCable Applications Platform (OCAP) specification. He also leads many related iTV projects for Cox.

Craig has also been busy helping set standards through the Java Community Process (JCP) program, Digital Video Broadcasting (DVB) project, Advanced Television Systems Committee (ATSC), Society of Cable Telecommunications Engineers (SCTE), and Cable Television Laboratories (CableLabs). Cox Communications joined the JCP in 2002, and as the company's representative, Craig has become highly involved during the last year and a half, to the point of running for the Executive Committee.

He is currently leading Java Specification Request (JSR) 242 Digital Set Top Box Profile, nicknamed "On Ramp to OCAP." He notes that the process for putting together JSR 242 was "interesting because we were the impetus behind the groundswell of support, and we had organized meetings even before we took it to the JCP. We got in contact with folks at Sun about what we had in mind, and the JCP was great in helping us out and leading us through the procedure."


. . . . . . . . . . . . . . . . . . . . . . . . . . . . . . . . . . . . . . . . . . . . . . . . . . . . . . . . . . .