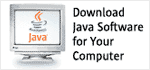 Dr. Ugo Corda joined the Java Community Process (JCP) program in 2003. His first exposure to the Java language was back in 1997, when a new job at Xerox Corporation had him dealing with corporate strategies regarding emerging technologies, Java technology in particular. Since then, Ugo has worked as a corporate Java technology strategist and evangelist, and he developed various J2EE-based prototypes dealing with research in the document management area. He became the official technical liaison between Xerox Corporation and Sun Microsystems' JavaSoftware division.

Currently a principal standards analyst in the Standards and Products Strategies organization of SeeBeyond Technology Corporation, Ugo focuses on emerging technologies standards, primarily those related to Java 2 Platform, Enterprise Edition (J2EE) and Web services and Service-Oriented Architectures (SOA). As SeeBeyond's principal representative within the JCP, Ugo is an expert group member of Java Specification Request (JSR) 220 Enterprise JavaBeans 3.0, JSR 224 Java API for XML-Based RPC (JAX-RPC) 2.0, and JSR 244 Java 2 Platform, Enterprise Edition 5.0 (J2EE 5.0) Specification. He holds a Ph.D. in Physics and a certificate in Artificial Intelligence. Ugo has 25 years of experience in various system software projects, including development of compilers, object-oriented environments, database machines, and document management systems.

Ugo clearly sees the benefits of the JCP program for the community and himself. "I firmly believe in the value of a Java standardization process which involves the Java community at large, and I think the JCP process has so far done a superb job evolving the Java technology in a way that leverages the contributions of all the relevant stake holders," he says. "I have been particularly enjoying my JCP participation in developing Web services-related aspects of the J2EE platform. This platform has emerged as the foundation of distributed applications and, most importantly for me and my company, as the cornerstone of business integration and composite application generation platforms."

Originally from Italy, Ugo has lived in California, U.S.A. for the last 20 years. He enjoys reading, watching movies, and traveling.


. . . . . . . . . . . . . . . . . . . . . . . . . . . . . . . . . . . . . . . . . . . . . . . . . . . . . . . . . . .