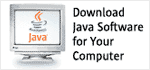 Becoming a Member | Instructions for Organizations | Instructions for Individuals | Information for Java User Groups | Submitting the JSPA | JCP Membership Info

Java User Groups (JUGs) can join the JCP for free.

Act NOW and you will get the benefits of JCP Membership and more, including the following:
JUGs should use the instructions for organizations; the fee will be waived for JUGs
Speaking opportunities support: are you planning an event for your JUG members and need a speaker? Would you like to speak at an event in your area?
Meeting support: is your next JUG meeting in need of logistical support?
Special JUG gathering at JavaOne
Contact the JCP PMO at pmo@jcp.org with information about your event to get it included in the newsletter.

If you have additional questions, contact the JCP PMO at pmo@jcp.org.

Click to see a current list of Java User Groups.

Find out more about the Adopt a JSR program in the JUG Java.net Community.


How to Represent a JUG on an Expert Group of a JSR:
If you wish to represent a JUG on an Expert Group of a JSR, you must have an individual Java Specification Participation Agreement (JSPA) on file with the PMO, and your current employer must have signed an Exhibit B for that specific JSR to accompany that JSPA. If you do not already have an individual JCP Membership, you will need to submit a JSPA for individuals, following the instructions for individuals. You must submit one Exhibit B for each JSR you wish to join.

After you have completed your individual Membership and have an Exhibit B signed by your current employer for this JSR, you should log on to jcp.org using your JUG account (NOT your individual Membership account) and fill out the Expert Group nomination form. As with any Expert Group nomination, your acceptance is subject to approval by the Spec Lead (and Expert Group, if there is one already).

If you are currently participating on an Expert Group as an individual JCP Member but wish to instead represent your JUG, which is already a JCP Member, create a new account associated with your JUG, if you do not already have one yet. Please note that you are not able to re-associate your individual JCP account to your JUG account. Next, using your JUG account, fill out the Expert Group nomination form AND notify the JCP PMO at pmo@jcp.org. Once the Spec Lead approves your nomination as a JUG Member, the PMO swaps your Expert Group representation from an individual JCP Member to a JUG JCP Member.